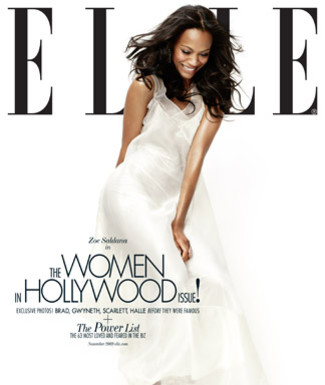 Zoe Saladana is supersexy.
I work with Zoe a lot, and I've learned from spending time with her that she likes to be sexy… but not too sexy. She wants to be approachable, still attainable. So for her ELLE cover (the Women in Hollywood issue!), I made sure to take her aesthetic into consideration when creating her look for the magazine.
We shot the photos at Chelsea Piers. Doesn't Zoe look fabulous on the cover in her Calvin Klein? To achieve her wavy, voluminous look, I used Ted Gibson Clip-in Extensions and Build It spray for a lot of volume, a large brush and lastly, a large barrel iron. And a wind machine. You gotta have a wind machine, right ladies? But no teasing for this cover. I left the teasing to schoolyard bullies in this particular instance.
She's a Gibson Girl, right?
Remember, Beauty Is Individual.
As a celebrity hairstylist, I often receive samples of new products directly from beauty brands to test out. Any product I mention in this blog is one that I've tested out myself, in accordance with Daily Makeover's Editorial Ethics Pledge.