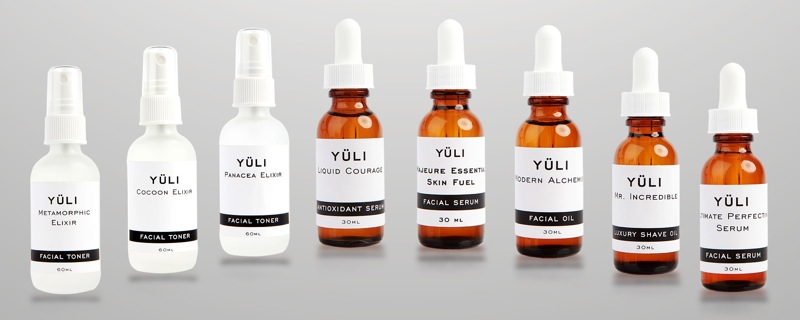 Finding the right skincare regimen is something that we all strive for, every single day of our lives. If you're one of those people that still hasn't quite gotten it down, a new line called Yuli Skincare may be what you've been looking for. Founded on the philosophy that using the highest quality natural ingredients combined with cutting-edge science will provide both men and women with their best skin, founder Yun Li has taken her battle with problem skin as a youth and turned it into a career.
Below, I spoke with Yun Li about the inspiration behind the line, the exact science of it all and why it will improve our overall complexions. Read on to find out what these products, and a bit of science, can do for you.
Can you explain what your inspiration was for starting this line?
I've been interested in the power of botanicals and the science behind their various properties from an early age. There's a history of traditional Chinese medicine healers in my family so when I was young, herbs were used to treat just about any malady.
My fascination with unlocking the potential of plants turned into a career after I got my natural science and chemistry degrees. I've studied and used botanicals in depth, and used my knowledge to help premium mass market and niche beauty brands develop products. These work experiences taught me industry leading scientific procedures and developed my understanding of the market, but I also realized that skin health was not the top priority at many of these brands. As someone who battled severe acne (which eventually required the maximum allowable 2 rounds of Accutane), I remember the disappointment and frustration of buying high-end and prescription products that didn't deliver on their promise of results. I wanted to stop that cycle. I decided to leverage my experience, education, and background and create a line that would place skin health as the top priority without cutting any corners.
What have you found is the leading skin issue for most people?
I would say the leading skin issue is aging in its many forms. Anti-aging products are the largest product category in the skincare market. The demand for these products lies in two categories: preventive care and corrective care. This is why we see an increase in antioxidant products and retinols on the market. In our line, our products use potent bioactive antioxidants, and our Liquid Courage antioxidant serum has the highest levels of antioxidants and fatty acids on the market but is formulated to be nonirritating enough for the most sensitive skin. My co-founder is a big fan of retinols but frequently gets redness and irritation from it, so we actually developed a natural form of retinol used in products such as Modern Alchemist that's incredibly potent without the risk of damaging the skin and irritation that synthetic retinols can cause. In addition to these actives, our products also tackle skin aggressors that age and damage skin such as stress, photo damage, pollution, and fatigue, by aiding skin's regenerative cycle, eliminating inflammation, and rejuvenating skin cells.
A lot of our customers tend to have blemish prone or post-acne skin, and this could be because my co-founder and I both wear the badge of being 2-time Accutane users, so we're both partial to skin issues related to acne and scarring. We pay special attention to those products. We both use ME Skin Fuel which actually balances sebum production, clears decongested skin, while hydrating and rejuvenating skin on a cellular level. We also developed the Ultimate Perfecting Serum to rehabilitate scar tissue, even out skin tone, and fix signs of damage. Unlike a lot of products on the market that treat by burning off, bleaching, or over-exfoliating skin, which has been scientifically shown to be more damaging to skin; our Ultimate Perfecting Serum works to reconstruct healthy tissue, and restore optimal cell function over time.
 What sets your products apart from everything else on the market?
When I set about creating this line, I teamed up with skincare experts, while my co-founder assembled a team of former bankers, and finance guys. As a result, the atmosphere within this group is very edited and result-driven. We wanted to sell to the modern, discerning customer whose beauty closet can be grouped between luxurious clean brands and cutting-edge scientific lines. This consumer cares about the health and appearance of their skin and at the same time cares about what they're putting on it. We developed our products to fit the needs of this market so that consumers could have a line that they could use without fear of harsh ingredients but also see incredible results through taking advantage of modern science. We take the best parts of natural skincare – the clean, potent botanicals, and the best parts of scientific skincare – the advanced skin technology, to create a line of uncompromisingly high-quality, high-performing, high-end skincare.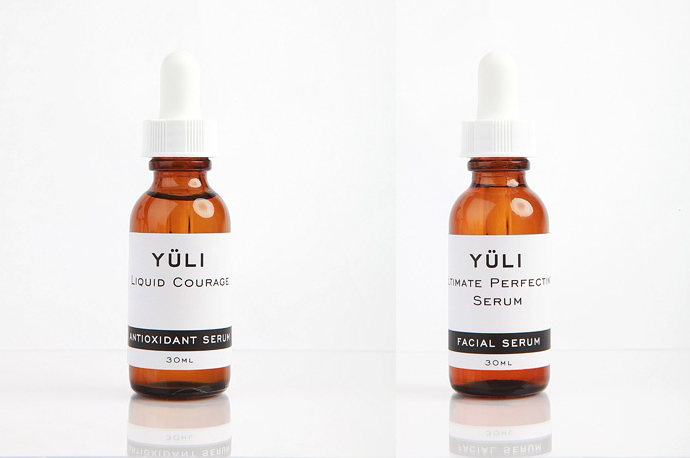 What is the science behind the products? 
At the core of our line, we believe modern skincare is a fusion of clean formulations, and cutting edge skin technology. We achieve clean formulations through using only the highest-quality, freshest botanical ingredients directly sourced from our farms and carefully vetted suppliers from around the world. Botanicals have been shown to be more potent than synthetic substitutes. The average prestige skincare product contains roughly 2.5%-10% active ingredients; our line uses nearly 100% active ingredients which are more readily absorbed by skin, and non-toxic. In addition to that we carefully tune the concentration of the active ingredients and composition so they work synergistically in each product. Finally, we develop and utilize high-tech skin science procedures to increase potency, and manipulate these botanicals to perform even better, for example we created a process of biofermenting antioxidant rich garlic to increase its antioxidant density by 6 times using no synthetic chemicals, while maintaining its cellular stability.
Our scientific approach to our line extends to how our products work together. The elixir and serum are designed to work together using our skin technology to deliver bioactive nutrients more efficiently to skin cells.
What is your favorite product from the line?
That's truly very hard to answer because I love them all and the line is continuously growing. It's like asking me to pick a favorite child! I know that sounds so cliché but I have such an attachment to all of them because I've spent so much time with my team thinking about every aspect of the products. Everything from the font to the ingredients to what function it needs to do. I've been involved in every step of the process so I'm definitely a little attached.
I personally use M.E. Skin Fuel and the Panacea Elixir on a daily basis and supplement with Liquid Courage if I feel the need. My co-founder will not travel without Liquid Courage and Cocoon Elixir, and uses Ultimate Perfecting Serum religiously every night.
What is one of the best skin care tips you can give people who often struggle with their skin?
I believe good skin is a reflection of overall health. My philosophy is that good skin is part genetic, part diet and lifestyle, and part regimen. Trust your skin to tell you what it needs. People tend to be too harsh and do too much with their skin when it becomes problematic which aggravates the problem even more. Over-scrubbing, over-exfoliating, over-washing, and applying too many products with harsh ingredients will not do skin any favors. For example, many people who suffer from acne buy harsh, over-drying products and end up with imbalanced sebum production which leads to more oiliness and inflammation. Many people end up almost having a war with their skin through over-exfoliation and over-using products. I like to compare it to a scenario where if someone wants to prevent a cold, they shouldn't take cold medicine every day, but they should keep their body and immune system in check and give themselves proper nutrition. The trick to good skin really lies in working with your skin, and our products are formulated to be ultra-pure, very clean, and intensely active to provide long-term benefits to skin on a cellular level.