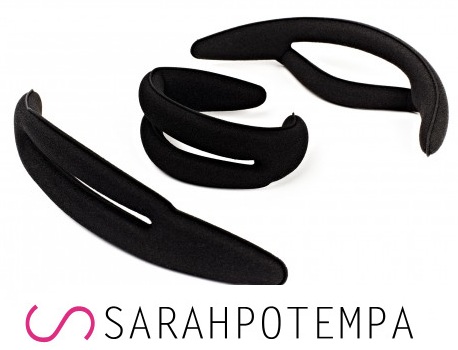 At Beauty High we constantly have new products crossing our desks and are always on the hunt for the next best thing. "The One Thing" is our way of sharing with you that must-have product that you need to introduce to your lives right now, even if it means skipping Starbucks for a couple of days.
Top knots and ballerina buns have been exploding lately, taking over Pinterest and Instagram as the hairstyle to have. Lending itself to girls on-the-go and elegant ladies alike, this trend has become among the most coveted of the year. The only issue? Depending on hair type, length and texture, achieving a picture-worthy bun can be a huge pain in the neck. Enter The Wrap Up from Sarah Potempa, also known as the greatest thing to ever happen to the ballerina bun.
What Makes It Different: 
Unlike a bun donut or a sock, you don't need to use any bobby or hair pins with The Wrap Up.

Because of it's shape and simplicity, it gives you a perfect ballerina bun every single time.
It can be used for a messy bun, elegant bun, low bun or high bun. Basically, think of a bun, and The Wrap Up can handle it.
Why It's The One Thing: 
With such a hectic life, doing hair every day tends to be impossible. On the days when we just can't find the time for a blow dryer, a ballerina bun is the ideal style, but getting it to look perfect can be difficult. With The Wrap Up, it takes about 30 seconds and is utterly fool proof. Seriously, the bun donut is still impossible in our minds – but The Wrap Up never lets us down. Watch how to use it here.
Sarah Potempa The Wrap Up, $12, SarahPotempa.com