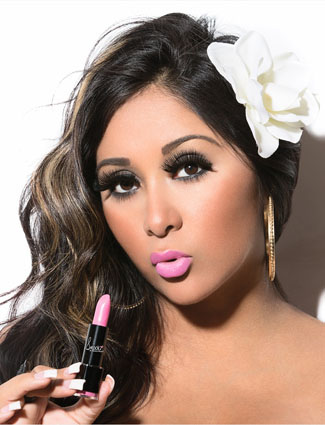 If you have just been dying to rock a lip color inspired by a member of the Jersey Shore, it may be time to get "Snookilicious."
The pint-sized reality star that you either love or love to hate, Nicole "Snooki" Polizzi, has just released a new lipstick with Ka'Oir Cosmetics. Her latest beauty venture since her self-titled fragrance, Snookilicious ($21.99), is a matte finish lipstick, showcasing the pale pink color that the MTV personality is often seen wearing between takes. But how many girls are looking to emulate Snooki's makeup?
Related Link: Mariah Carey To Create OPI Collection
While she has recently been under the radar as she awaits the birth of her child, Snooki hasn't exactly received critical acclaim for her beauty choices. Her signature clipped-back poof and dark bronze tan have come under quite a bit of scrutiny, but that has not stopped her from venturing into the beauty product arena. Rumor has it that the mama-to-be is gearing up to release an entire line of cosmetics later this year. Perhaps if there are people who are willing to purchase fragrances by former castmates The Situation and Sammi, a makeup line by Snooki may also see some success.
Related Link: The Best Multi-Tasking Lipsticks
"I love the bright hue I was able to create," Polizzi said. "I'm obsessed with makeup, so to have my own signature lipstick is a dream of mine!"
Is wearing a lipstick by Snooki a dream of yours? Tell us what you think.