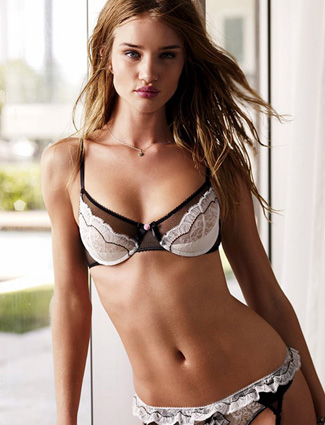 While used underwear doesn't exactly sound like our idea of decor, that's what actress and Victoria's Secret model Rosie Huntington-Whiteley uses to set the mood in her bedroom.
The model-turned-actress, who is launching a new lingerie range with Marks & Spencer, has revealed she adorns the boudoir she shares with actor boyfriend Jason Statham with fine French camisoles and lace brassieres.
In an interview with Style magazine, the Transformers: Dark of the Moon star said, "Vintage underwear is particularly sensual, especially pieces from the 1930s and 1940s – that's largely down to the colours and tones. It's like art to me: I love finding pieces and hanging them round my bedroom."
The catwalk beauty attributes her passion for underwear to her job as a Victoria's Secret Angel, which involves her being photographed in skimpy pieces.
Speaking about her own signature line, Rosie for Autograph, the supermodel enthused, "I've always wanted to design. My passion for lingerie came from being in it all the time, and my understanding of what works comes from wearing it on shoots. I see myself in design for the long term."
What items do you collect and use to decorate your home?