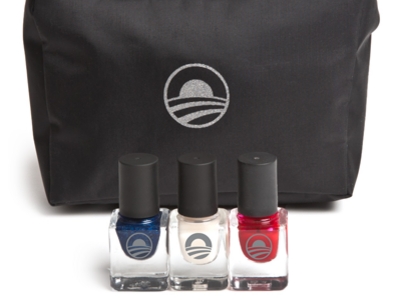 Photo: Politico
Here's something I never thought I'd say: Show support for a presidential candidate with your nail polish.
As part of President Obama's re-election campaign, he has purchased a nail collection by Richard Blanch of Le Mètier De Beautè. The red, white and blue trio was actually first debuted in a "Runway to Win" event in New York City in February. The colors screamed American pride, so for his latest campaign endeavor, Obama shelled out $10,000 for the collection.
This seems like a great way to appeal to women who are a little more interested in making their salon appointment than catching the latest Presidential Address. And he's obviously been doing his homework as nail polish saw more than a 50% increase in sales in 2011.
The nail trio with collectible bag is now on sale ($40, Store.barackobama.com). Will you be rushing to support Obama with a red, white and blue mani?