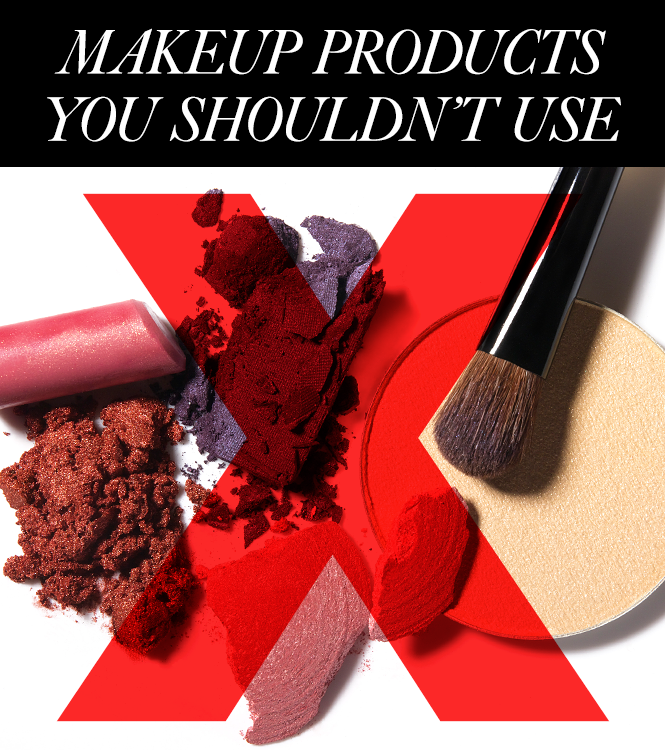 Sometimes makeup can be the hardest thing to get right. Getting natural looking color and coverage is dependent on the type of products you keep in your makeup bag. Rebecca Prior, chief of makeup services for Napoleon Perdis, and Sonia Kashuk, makeup artist and founder of Sonia Kashuk Beauty, tell us which products to steer clear of.
1. Overly Matte Powder
"Skin has an inherent brightness to it in its natural state, so you want to preserve some of that beautiful radiance while at the same time removing any excess shine," says Kashuk. "Choose a translucent formula that doesn't settle into pores and focus application on the T-zone."
Safe alternative: Try Sonia Kashuk Barely There Loose Powder ($9.39, target.com).
2. Unflattering Trend-Based Color
"Many times we have seen women encouraged to wear the 'latest color' because it is the current trend," says Prior. "For us, the definition of a beautiful woman is one who feels empowered, has ownership of her look and allows makeup to help tell her story while making her feel beautiful, so you should never wear anything that makes you feel otherwise." Trust your instincts. If this season's blue eye shadow doesn't feel right on you, it's probably not.
3. Foundation Not Suited For Your Skin Type
"Many people don't realize that even if you wear sunscreen on a regular basis, just being outside causes your skin to change color with the seasons," says Prior. "You should never wear your summer foundation through the winter and vice versa. The wrong shade is a dead giveaway that your flawless skin isn't necessarily all your own. "
Kashuk adds, "A big don't for me is using too much foundation in the wrong texture and tone. Skin should always look amazing and never like you have a heavy layer of makeup on, so look for a sheer, buildable formula and spot treat as needed. Also, avoid foundation shades that are too light. Always use a foundation that is slightly warmer than the skin and make sure your neck is the same tone as your face."
Safe alternative: Keep a couple of shades of Napoleon Perdis Sheer Genius Liquid Foundation ($59, napoleonperdis.com) on hand and mix as needed.
4. Too Sparkly Shades 
"Look for products that have more illumination than sparkle," says Kashuk. Shimmering face powder and blush can look unnatural in daylight and make your skin look shiny in photos. Glittery eye shadows can settle into fine lines and accentuate crow's feet and crepe-y lids.
Safe alternative: RMS Living Luminizer ($38, rmsbeauty.com) gives skin a natural looking sheen.
Read more: 4 Hair Products You Should Never (Ever!) Use