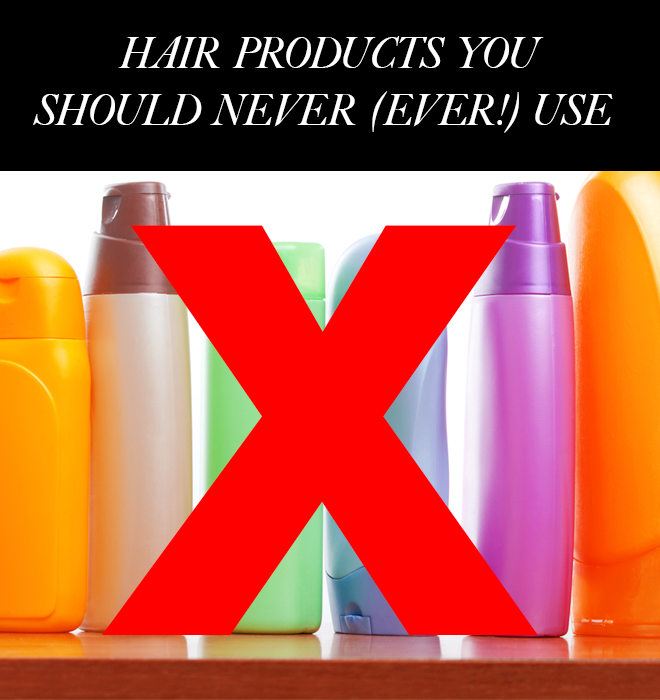 We all have bad hair days, and more often than not, the exact cause of said bad hair day is impossible to pinpoint. It could be humidity in the air, styling mistakes, a day too long without washing… or it could be the continued use of too-harsh products that are leaving hair less than healthy. Top stylists shared their list of the worst hair products that should be avoided at all costs, and some may give you a real shock.
1. Silicone-Based Products
Silicone creates the illusion of healthy, shiny hair while actually further drying out the hair from the inside, which is exactly as sinister as it sounds. "Silicone coats the hair shaft for a sleek shiny finish, but it prevents the real nutrients from conditioners to penetrate the hair shaft," says Nunzio Saviano, owner of Nunzio Saviano Salon in NYC. If you're seeking a glossy finish, try Aesop Shine, a silicone-free solution that's perfect for damaged hair to both add shine and impart health over time.
2. Alcohol-Based Products
"Avoid alcohol products, which are mostly used in styling spray-gels or mousses," says Saviano. "Alcohol is a very drying ingredient for the hair." We already avoid alcohol-heavy skin care products because they zap moisture from the skin—so we're not exactly about to jump to put it on our hair. Give L'Oreal Paris EverStyle Alcohol-Free Strong Hold Defining Gel a try instead: it's affordable, totally alcohol-free, and perfect for keeping your style in place.
3. Cheap Shampoo
Saviano says to be wary when buying shampoo, since some brands strip color and remove hair's natural oils with high quantities of sulfates and other lathering ingredients. If you do choose a drugstore shampoo, look for one that's low in sulfates and contains moisturizing components. For a high-end choice, we like Living Proof Restore Shampoo. The Jennifer Aniston-approved formula gently cleanses while keeping hair moisturized and healthy.
4. Protein-Based Conditioners
Conditioner fortified with protein is fine, as long as it's not only protein that it contains. "Always use a combination of moisture and protein," Saviano says. "Too much or only protein will eventually make the hair lose its natural elasticity and will cause hair to snap while brushing and styling." Overusing protein on hair can lead to straw-like strands, especially on hair that's already damaged. Korres Aloe and Dittany Conditioner is perfect for both strengthening and hydrating the hair with protein and moisturizers, so you'll get balance, not breakage.
5. Plastic Brushes
"Do not use plastic brushes for your hair, because they have a tendency to break the hairs," says Caroline Greyl, president of Leonor Greyl. Instead, try a pure boar bristle brush, like Wigo Cushion 100% Boar Bristle Brush.
6. Zinc Pyrithione and Coal Tar
These ingredients are the most common active properties in dandruff-fighting shampoos, but Greyl warns that they can be incredibly harsh on the scalp and surrounding skin. As a nourishing alternative, Leonor Greyl Bain Traitant a la Propolis is able to treat itchy dandruff without the troublesome ingredients.
7. Heat Protectants 
Hear us out: "I think 'heat protectants' can do more harm than good," says Clear celebrity hairstylist Jen Atkin. "For people styling their hair at home, using a heat protectant can do the opposite of what it's supposed to. If sprayed before using a flat or curling iron, it can almost 'cook' the hair and cause it to break off." That doesn't mean you should eschew heat protectant altogether, but you should definitely opt for a dry spray, like Oscar Blandi Pronto Dry Heat Protect Spray , so that you're not moistening the hair immediately before you style it.
8. Products with Parabens
"Since parabens are used to kill bacteria in water-based solutions, they inherently have some toxicity to human cells and can be absorbed through the skin," says Dwayne Ross, owner of Verve Lounge Hair Salon. That's scary stuff, to say the least. Many beauty products now proudly boast their paraben-free status, so look for the "paraben-free" notice on the bottle before you buy.
9. Fragrance
"If the product lists fragrance, stay away," says Rowenta celebrity stylist Josue Perez. "It can contain more than 4,000 separate ingredients. Studies show fragrance can affect the nervous system leading to major health issues." Instead, look for hair products that are scented with essential oils.
10. Salt Sprays
The look of messy, beachy hair is way sexy, but many salt sprays actually dry out your hair in the process of obtaining those crunchy waves. Josie Maran Bohemian Waves Argan Hair Mist balances out the Himalayan pink sea salt used to get the beachy look with argan oil, so hair stays hydrated.
Read more from Daily Makeover: 5 Beauty Products You Should Never (Ever!) Use