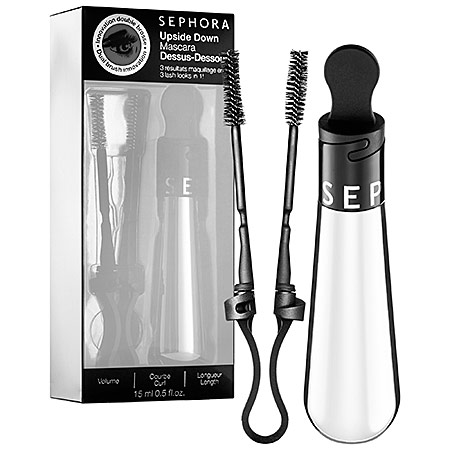 You know how you see the "bestsellers" and "most popular" products in beauty stores, so you of course scoop them up, but then you realize you have no idea how to work them? In "How It Works," we're going to explain to you exactly how to get the best use out of your products, whether they are cult classics or hot off the conveyer belt must-haves. We'll teach you the basics, as well as a few industry expert tips to make sure you're getting the most out of everything you buy.
Trying a new mascara has become as normal to us as washing our hair. With all of the formulas, brushes and colors out these days, we can barely get our hands on enough. While we've got some favorites that we keep coming back to, we're always up for taking a new mascara for a test drive. The latest — and dare we say coolest — mascara to come across our paths is the Sephora Collection Upside Down Mascara. On first glance, the thing looks like a torture device, but once we tried it, we were hooked.
MORE: 12 Signs You're Addicted to Mascara
Product Perks: 
Think Bridgette Bardot but without the fuss of falsies. This mascara lengthens, curls, and gives your lashes volume. We also love that your lower lashes aren't left out of the equation, because the dual brush of the mascara leaves no lash untouched.
How It Works: 
Two wands might seem a bit intimidating, but this mascara isn't as scary as it looks. Start by placing your upper lash in between both wands and sweeping them in an upward motion (as you would a normal wand) to create volume. You can use each wand individually, using the thinner one on bottom your lashes. For a complete lash experience, use the wands together to coat the top and bottom of your upper lash line by pinching the wands together with your lashes in the middle. Trust us, it's not as scary as it sounds. All in all, it's like treating your eyelashes to a deluxe treatment.
Where to buy: Sephora Collection Upside Down Mascara, $22, Sephora.com