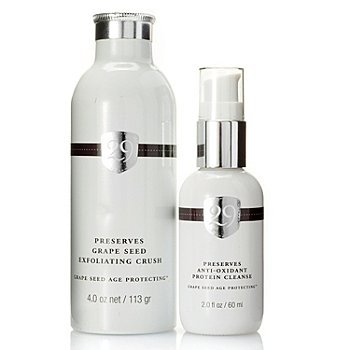 On a recent trip to Napa Valley in California, I discovered a few amazing beauty products all containing the coveted, antioxidant-rich grape seed extract.
While visiting Michael Mondavi's beautiful family estate vineyard, I learned how his beautiful sister-in-law Lydia Mondavi created a company called 29 Cosmetics, which is an age-protecting skin care and cosmetics line that contains the wonderful grape seed extract. This extract is one of the most concentrated forms of antioxidants, which helps the skin by fighting against free radicals and pollutants. It also keeps skin looking younger longer. My favorite products in this line are the cleansing formulas. The 29 Preserves Grape Seed Exfoliating Crush ($40, 29cosmetics.com) contains 100% finely milled grape seeds taken directly from the family's vineyards.
Another yummy grape seed line is Olivina by Napa Valley Apothecary, which is a natural line that doesn't contain parabens, synthetic dyes, fragrances, or phthalates (all nasty things). The Milk & Honey Body Butter ($21, olivina.com) was almost gone in two days, because it smelled so amazing and felt so good on my skin in the dry California air that I couldn't stop applying it. By far one of my most favorite body treats around.
Wine Country Organics offers a collection of Lip Balms ($4.50, winecountryorganics.com) and Lip Tints ($7, winecountryorganics.com), each inspired by the wonderful wines found in the region, like Pinot, Merlot, Syrah, Rose and Zin. Packed with grape seed oil and vitamin E, these light lip tints makes lips feel smooth and supple.
Read more: This New Mascara is Mind-Blowing