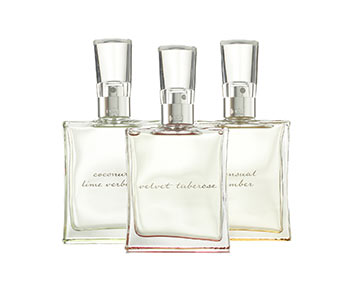 I was shopping online for beauty products the other day (as is my wont when I should be writing or cleaning or doing something else more productive) when I found myself paroosing the fragrance section, something I normally skip over. I was so overwhelmed! It got me wondering how women manage to buy scents online; the sheer amount of fragrances available was mind-boggling. And it's not easy to figure out what you get based on the descriptions — I read paragraph after paragraph gushing about the rarity and "lusciousness" of the ingredients, but I still had no idea what the perfume smelled like!
Then I came across this new tool from Bath & Body Works. Called the Fragrance Finder, it's a personality quiz of sorts that asks you questions about yourself and then chooses a fragrance for you based on your answers. I pointed out some sentences and images that I thought described my personality best and was promptly told I was a Fresh girl. So far so good. Next I told the tool what kind of event I was planning on using my perfume for (Morning Refresher) and was told that my ideal scent is Sea Island Cotton.
Talk about dead on! At home my fragrance wardrobe consists of light, fresh, clean scents with watery undertones, like Marc Jacobs Rain Summer Splash. I'll definitely be giving this Sea Island Cotton a try! The tool picks your scent from one of 23 of the brand's Signature Collection of fragrances so there's literally a scent to suit every type.
Special Offer for Daily Makeover Readers!
Bath & Body Works is giving one lucky reader the chance to win their very own signature scent. To enter, head on over to the Fragrance Finder and fill out the questionnaire to find out what fragrance suits you best. Tell us in the comments below what personalized fragrance was recommended to you and you'll be entered to win! Contest ends August 31, 2009 at 1 P.M. EST. Full rules and regulations here.
Congrats to our winner Becca. Thanks to everyone who entered and shared their signature scents!
As one the web's largest beauty sites, DailyMakeover.com constantly receives products from beauty companies for editorial review. Please read our Editorial Ethics Pledge if you'd like to know how we select products to feature.