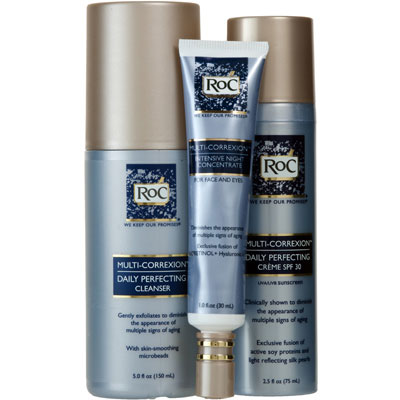 I'm not what you'd call a winter person. While I was born in tundra-like Upstate New York, I spent my formative years in the Middle East where, as you can imagine, snow was scarce. I never really had to deal with any of the skin issues that come with cold weather.
That all changed when I moved back; as soon as it started to get cold my complexion would get dull, flaky, dry and red. As I've gotten older, I've started to notice that in addition to these problems, winter dryness is also leading to my skin looking older, with fine lines and light pigmentation popping up seemingly overnight. Ug!
Lately I've been scouring around trying to find the perfect combination of products to help all of these issues: the dryness, pigmentation, fine lines and dullness. It's been a struggle to find a regimen that addresses all of these needs AND doesn't cost me a fortune.
Enter the RoC Multi Correxion Skin Perfecting System. I was totally intrigued by the name — I mean, hello, who doesn't want perfect skin?!? — and the 3-piece set is exactly what I was looking for. It contains a Daily Perfecting Cleanser that gently removes dirt and oil and softens the skin; an SPF 30 Daily Protecting Crème to protect against the sun, even skin tone and texture, and add radiance to the skin; plus an Intensive Night Concentrate for face and eyes that uses retinol to minimize fine lines and wrinkles and smooth out your skin. Best of all, it's all just $44.99, so totally easy on your wallet.
Want to try the Multi Correxion set for yourself? Well you're in luck because we teamed up with RoC to offer one lucky reader their very own Skin Perfecting System. To win, simply tell us what your biggest winter skin woe is in the comments below and you'll be entered to win.
Contest ends December 07, 2009 at 1 P.M. EST. Full rules and regulations here.
Congrats to our winner Stephanie. Thanks to everyone who entered and shared their winter skin woes. For tips on how you can help your skin survive the harsh winter months, check out our Winter Skin SOS feature.
As one the web's largest beauty sites, DailyMakeover.com constantly receives products from beauty companies for editorial review. Please read our Editorial Ethics Pledge if you'd like to know how we select products to feature.