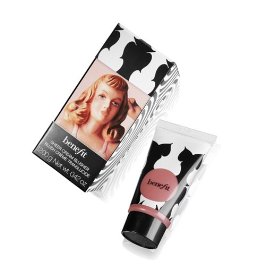 Benefit Sheer Cream Blusher
During this time of year, your skin can become more dry than ever and your radiance may seem to have just disappeared. Cream blush will save you now, even if your skin is oily. Many of the cream blushes of the past were far too greasy and had a tendency to slip off the face, change color or become blotchy. Not any more.
The new cream blush formulas are much more advanced and have great staying power, a silky smooth application and give you that fabulous luminous boost you crave. Cream blush looks more natural than their powdery counterparts and can applied in a flash. In the cold dry climate, a cream will look moist and soft and give you a gorgeous glow.
Always apply a cream blush after your foundation. Use your fingertips or a clean makeup sponge to swirl on the blush. Smile big and apply directly to the apples of your cheeks for a sweet cherub flush. If you goof and apply too much, simply use a sponge with a bit of foundation on it to buff down the shade until it melts into your skin.
If your skin is oily, dust a translucent powder on top to help it stay put. If you have dry skin, skip the powder for a more hydrated look. If your skin is rough or has a few blemishes, avoid any blushes that contain shimmer which will gather up in the cracks.
A dewy rosy cheek is the best way to mimic a youthful fresh look so give it a go. Some of my favorite formulas are Benefit Sheer Cream Blusher and Sally Hansen Natural Beauty Inspired By Carmindy Sheerest Cream Blush.
As an established makeup artist, many beauty brands send me samples of their latest products for consideration. I only write about the items that I truly love and I always abide by Daily Makeover's Editorial Ethics Pledge in each of my Positively Beautiful posts.