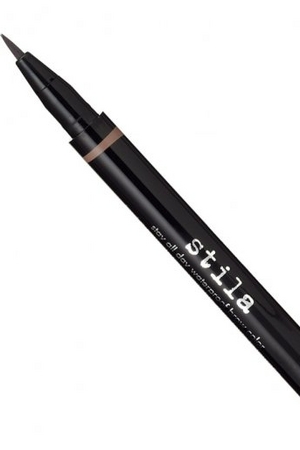 I am always filling in, adjusting, thickening and feathering in brows on women that have been over-plucked. The amount of products to choose from can seem limitless with brow powder, brow wax, liquid brow correctors, brow mousse, brow pencils, brow gel and the new brow pens. If you are not a pro, some of these brow boosters can do more harm then good and make brows look a bit off, so finding the perfect product to achieve picture perfect arches is key.
There are a ton of possible mishaps when dealing with brows. Brow powder can look dusty if applied with a heavy hand, and a brow wax can flatten hairs if swept on too thick, which can look a bit strange and matted. Liquid brow correctors are awesome, but unless you wield your magic wand precisely, you can wind up looking like Groucho Marx, and brow mousse can leave gaps in the hairline. Brow pencils are easier, but unless sharpened to a fine point, they can look drawn on, and brow gel can leave really stiff hairs that feel plain weird.
The best solution I have found for the woman at home is new brow pens. They have a fine point like a perfectly sharpened pencil, they have the staying powder of a liquid brow corrector, and they can be applied lightly like a brow powder or heavier like a wax. I find them comfortable to hold, and they feather through the brows with ease and come in great shades that work on all hair colors and skin tones. My top favorites are Stila All Day Waterproof Brow Color ($21, Stila.com), which is perfect for an active woman or someone living in a hot and humid climate. Anastasia Brow Pen Long Wearing Brow Tint ($21, Sephora.com) is ideal for someone who may not be the best at blending, as this is a tint and not full on color. Urbanbrow Precision Tip Brow Tint ($20, Sephora.com) again goes on lighter and more natural like a brow stain, leaving a foolproof application.
If you find that you ever make a mistake with a brow pen, simply take a small tipped synthetic concealer brush and dip it into a little foundation, and then clean up the whoops. Now you will have fabulous brows in a snap and no need for wands or applicators!
As an established makeup artist, many beauty brands send me samples of their latest products for consideration. I only write about the items that I truly love and I always abide by Daily Makeover's Editorial Ethics Pledge in each of my Positively Beautiful posts.