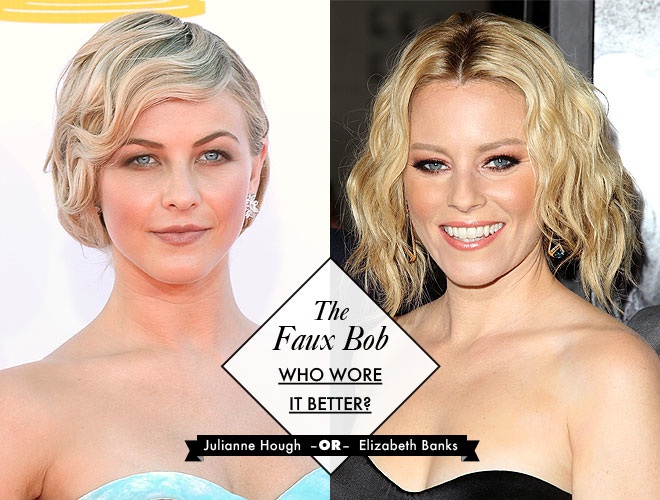 The faux bob is nothing new, but celebrities have been sporting the trend like crazy.
Julianne Hough debuted her shorter style at the Emmys, which was created by celebrity stylist Riawna Capri. To get the finger-wave look, Capri held a curling iron vertical to Hough's head and curled two inches clockwise, the next two inches counter clockwise, then the remainder of the hair curled clockwise.       .
Related Article: How To Create A Faux Bob
While many people were happy to see the actress doing something new with her hair, not everyone was pleased. During her red carpet interview with E!, boyfriend Ryan Seacrest said, "Julianne, I do love that dress, but this morning you showed me two hairstyles, and you went with the one I didn't choose." Ouch…But apparently after seeing the style on his girlfriend, Seacrest was happy with the results.
Elizabeth Banks took her style in a completely different direction when she wore it  to the LA premiere of Pitch Perfect. She paired her sleek Alexander McQueen dress with a much more casual version of the "faub." While both versions were wavy, Banks' was piece-y and less sculptured. Instead of being kept close to her head, her strands flowed freely, with face-framing pieces left out in the front.
Suave Professionals celebrity stylist Jenny Cho created the hairstyle by applying mousse to the star's wet hair and diffused and dried it. She achieved Banks' curls with a medium-size iron and alternated the direction of the curls with each two-inch section of hair she worked with.
So the big question is who do you think wore it better? Do you prefer an old Hollywood glam faux bob, as worn by Hough, or do you like the fun, effortless look of Banks'? Leave a comment below telling us which lady rocked it best.