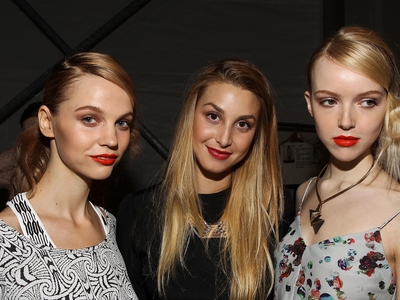 Photo: Paul Morigi/WireImage
We were front row at Whitney Port's Fashion Week debut this morning, and saw first-hand the colorful frocks styled by Lara Backmender and the impeccable makeup of Make Up For Ever artist Kristi Matamoros.
Try on Whitney Port's hairstyles in the Makeover Studio
Port's collection, rich with color (particularly an electric orange hue that was repeatedly styled with grey sequined pieces) and heavy on layers, was inspired by an antique kaleidoscope she found in her grandmother's home and sponsored by Crest 3D White. "I was looking at it, and was inspired by the prints and colors," Port said. "But [the collection] is also based on what kind of girl I feel like I've grown to be the past couple years."
Models traipsed down the runway to a mix of girl power music, including Beyonce and M.I.A, donning floral printed suits, black-and-white patterned mini skirts, and striped grandpa sweaters in black and burnt orange.
Port's NYFW debut was an illusive dream until one month ago, when the reality star-turned-designer discovered she'd be presenting her collection in the U.S. fashion capital. "I started organizing this maybe a month and a half ago. The collection that I was doing was already being done, because obviously I'd do it anyway, but we decided pretty last minute we wanted to be part of Fashion Week."