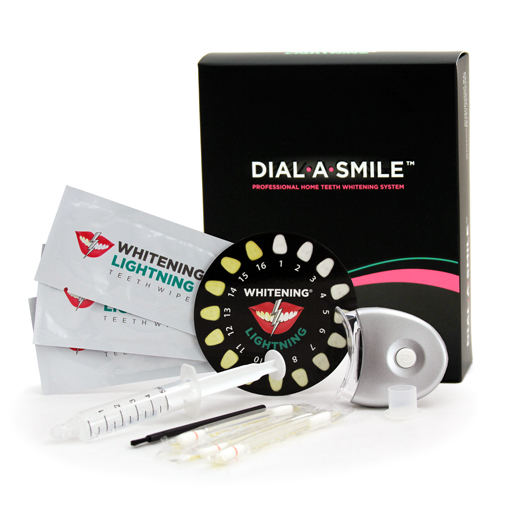 You know how you see the "bestsellers" and "most popular" products in beauty stores, so you of course scoop them up, but then you realize you have no idea how to work them? In "How It Works," we're going to explain to you exactly how to get the best use out of your products, whether they are cult classics or hot off the conveyer belt must-haves. We'll teach you the basics, as well as a few industry expert tips to make sure you're getting the most out of everything you buy.
White teeth will never go out of style because who doesn't love a bright smile? And, since coffee will never go out of style either, because we can all use a caffeine boost in the morning – but unfortunately the two of our favorite things definitely do not go hand in hand. While lattes are notoriously known for staining teeth, that doesn't mean we have to give them up just yet. Lucky for us, there's Whitening Lightning's Dial-A-Smile Professional Teeth Whitening Kit which will let us hang onto our million dollar smile, and our morning cup of joe.
MORE: 10 Things No One Ever Tells You About At-Home Teeth Whitening
Product Perks:
Easy, yet effective way to experience professional teeth whitening at home.
Each kit contains a syringe of high-quality hydrogen peroxide that has both a sensitivity free formulation and pleasant taste, unlike conventional whitening products which contain harsh and unnecessary ingredients.
A single treatment can whiten your teeth from 4-7 shades.
Results are seen in just 20 minutes!
How It Works:
To prep your teeth for the whitening, start off by making sure that they are dry by gently rubbing them with a clean, and soft wash cloth. Next, taking a vitamin E swab that comes in the kit, coat your gums and lip. Paint on the whitening gel and then pop the LED light into your mouth for 20 minutes to activate the ingredients and allow them to begin whitening your teeth. To achieve maximum whiteness, use one treatment every two weeks (your kit contains a total number of 3 treatments which are recommended to be completed for best results).
Where to Buy: Whitening Lightning Dial A Smile Professional Teeth Whitening Kit, $99, Whiteninglightning.com