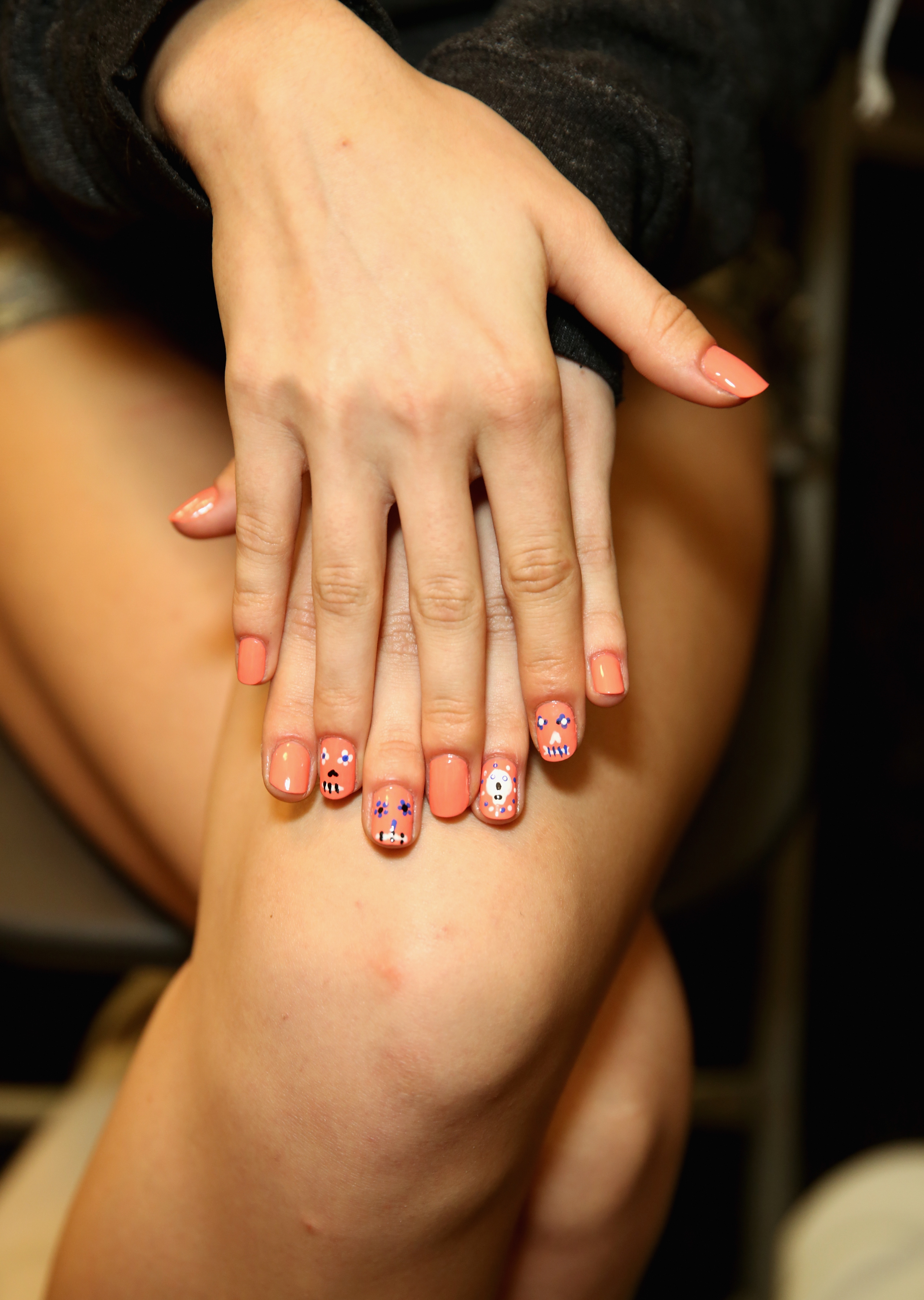 There may have been more than a few attempts to kill the nail art trend (Chanel, we're looking at you). Considering the countless takes on nail designs we've spotted throughout Fashion Month, though, it's safe to say that your tips will hardly be relegated to a single color any time soon. Even if you're not the most skilled with a nail-sized paint brush, nail art has become accessible to the masses by way of nail stickers, and these days, it's rare to meet a girl who hasn't tried the trend at least once.
We'll be the first to admit that we love any kind of design happening on nails, but we'll also be the first to say that nail art isn't always right for the occasion. To help you to look your best no matter the circumstance, here are six times it's perfectly acceptable to wear nail art, and four times you should leave your nails with a single polish color.
MORE: Nail Art: Everything You Need to Know for Gorgeous Nail Designs
When It's Perfectly Appropriate to Wear Nail Art
School Functions: This stretches from homecoming all the way to prom, and we mean it when we say the more nail art at school functions, the better. Cheer on your home team with your school colors or coordinate your evening gown with your tips, but however you do it, nail art is an absolute "yes" for all things school-related.
Seeing Your Favorite Band Live: Regardless of whether your favorite band is playing in a garage or a concert hall, music brings out the creative side in people, so why not boast your artistic genius with your nails? Bonus points for supporting the band with your nail art.
Holidays: Nail art was practically made for holidays, and there's nothing like good zombie nails on Halloween or bunny nails on Easter. Plus, talk about a low budget way to dress up for the occasion!
Sporting Events: Going hand in hand with holidays, nail art is the perfect way to root for the home team when it comes to football, basketball or any other sport.
When You've Got New Accessories: Whether this be rings, bracelets or clutch handbags, if focus is on your hands, why not kick things up a notch and add some art? We all know you're going to post pictures of your new  purchases on social media sites, so giving yourself some nail art will make the whole picture look even better.
You've Mastered a Difficult Design: Sponging, water marbling and graphic designs are all much more difficult than they look. If you spend enough time perfecting a particular technique, you've earned the right to flaunt it, no matter what the occasion. Enjoy the steady stream of compliments your nails will rake in!
MORE: Nail It: 101 Seriously Amazing Nail Art Ideas From Pinterest
When You Should Stay Away From Nail Art
Right Before Working With Your Hands: It's not that nail art is inappropriate to wear while using your hands, but if you spend that much time on the art, you better be able to wear it for longer than a day. Avoid nail designs right before moving, going on vacation (sand and salt water destroy nail polish), washing your car or any other type of labor intensive activity.
When You're Stressed: A common side effect of stress is biting nails, and that combined with unmanicured cuticles can make for a pretty rough canvas for art. Wait until your nails are smooth, healthy and long enough before you go for nail art. No one likes an Instagram of a sloppy manicure.
Formal Events: With the exception of prom, formal events should really remain just that. Instead of a nail design, get your fix for a fancy manicure with a rich color or textured polish.
Your Best Friend's Big Day: Whether it be a birthday, wedding or otherwise, instead of wearing nail art on your best friend's big day, use your skills (or stickers!) on her tips instead so she's in the spotlight.
Image via Chelsea Lauren/Getty Images