None of us are safe from life's ups and downs—unless, of course, we are heavily medicated (and even then we're probably just numb to it). With everything happening in the economy over the last few years, our patience, will, love, and faith have most likely been tested. If you or a loved one have lost your job, your business is totally sucking, a relationship is falling apart, your kids are wearing you down, or you're just feeling a general sense of malaise, then it's time for a two-day escape. This is a time to call up your BFF's and get re-inspired with one another. Create magic together by getting back to Mother Nature and taking advantage of her beautiful gifts.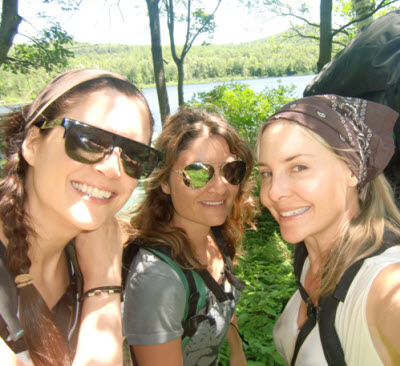 Recently, these very feelings washed over my two girlfriends and me. With money being tight, we decided to go back to nature on a two-day escape. You don't need a fancy or expensive vacation; just pack up everything you need for survival in your backpack and head out. Camping is free in most places and living without any connection to the outside world can really put things into perspective and bring you back to your center.
We brought along a camera, some makeup and a bit of fabric and turned a simple camping/hiking trip into an inspirational beauty photo shoot. It worked wonders: We all came back feeling beautiful and happy again and ready to take on all of the life challenges in store for us. We discovered that we just needed to recharge our batteries.
If you are not the roughing-it kind of gal, there are other ways to experience this same feeling. You can plan a spa weekend at a friend's house complete with manicures and pedicures and at-home facemasks you can create with stuff found around the kitchen. And while you're at it, you might as well throw in a bottle of Proseco to relax!
Trips to the beach or lake, nature walks, or even picnics out on the lawn can all get you in touch with nature and help ground you again. If you have kids, get a babysitter or enlist your hubby or other family member to take over. This will let you be free to get back to you. There is absolutely nothing selfish about it and when you return you can face the world again feeling like your most beautiful and empowered self.
As an established makeup artist, many beauty brands send me samples of their latest products for consideration. I only write about the items that I truly love and I always abide by Daily Makeover's Editorial Ethics Pledge in each of my Positively Beautiful posts.