When I first heard about Drybar coming to NYC, I literally squealed with joy. Then I called up all of my girlfriends and we all collectively squealed joyously together. We couldn't wait to plan our next event so we could get our hair professionally blown out. Drybar is the simple, yet brilliant of idea of "No cuts. No color. Just blowouts."
When I had the lucky task of attending the preview event of the NYC debut location at 4 West 16th Street, I didn't know what to expect. All I did know was that I wanted gigantic, bombshell hair. What I was met with was not only a very modern, cool, iPhone charger-equipped space, but a staff as friendly as your next door neighbor.
My stylist, Mitchell, who I'm pretty sure I was married to in a past life, not only had extensive knowledge of music and 90's movies, but was a whiz with the blow dryer and sang "Party Rock Anthem" with me while he twisted and twirled my hair. He worked his magic while I chatted with Alli Webb, President and Co-Founder of Drybar.
I congratulated Alli on her amazing success and marveled at the fact that she, along with her business partner and brother Michael Landau, had opened 10 locations in a year. "I have curly hair and I was always looking for a good blow-out," Alli said, "But everything was so expensive."
"So the blowouts are $40? All the time?" I asked.
"Yes. The fixed price was really important to me. It always frustrated me how a salon would advertise a $30 blowout and then tell you that because of the length of your hair your blow-out would be $45." At Drybar, no matter your hair length or the style you prefer, the wash and blow dry is always $40.
Drybar first opened in LA in February of 2010 and since them has expanded to an additional seven locations in Southern California, Arizona, Flat Iron in NYC and Texas. 2011 expansion plans include San Francisco, Chicago, London and Le Parker Meridien Hotel in NYC this fall.
Appointments can be booked online at http://www.thedrybar.com or by calling 212.561.5392.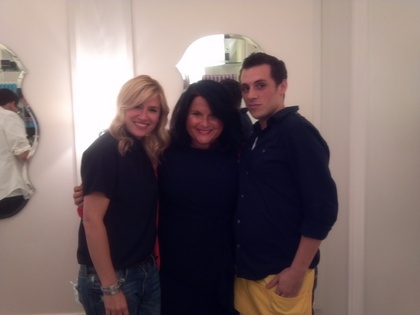 Me rocking the fabulous Cosmopolitan blowout with Alli Webb on the left and the amazing Mitchell on the right, doing his best blue steel.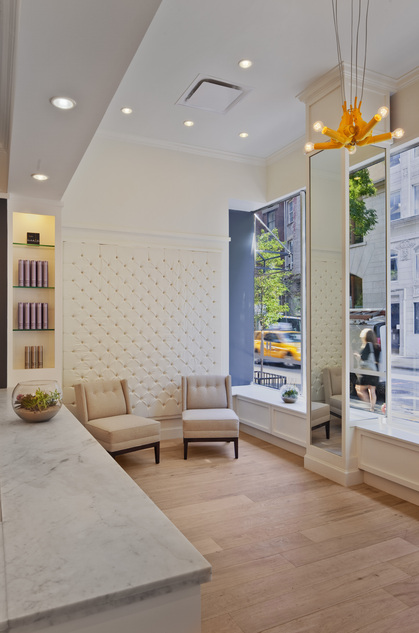 The space is bright, cheerful and lacks any and all attitude. It feels like you're going to your friends house to get ready for a night out.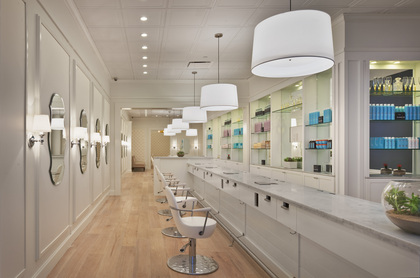 Moroccan Oil products adorn the shelves and feel free to charge in your iPhone, iPad or iTouch while you receive a Southern Comfort blowout!