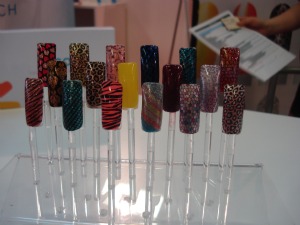 The cool nail designs from Incoco
Hello again from Italy! It was day 2 of my tour of Cosmoprof Bologna, the world's largest beauty trade show and I spent the day wandering the halls of the nail pavilion scoping out news and trends
The biggest news in nails right now are strips. First came stickers, then Minx and now there are nail polish strips–stick-on, long-wearing manicures made from real polish. I was first introduced to this technology when I reviewed the new ones from Sally Hansen, but I was not prepared to see the variety available now.
My favorite was a brand called Incoco. From glittery zebra to crackled, arty streaks, they had rows upon rows of these cool strips. You simply peel them off, stick them on your nails and file off the excess. The strips require no drying time and look real, because they are made of real polish. The brand is currently only sold online, but are hopefully going to be in stores later this year.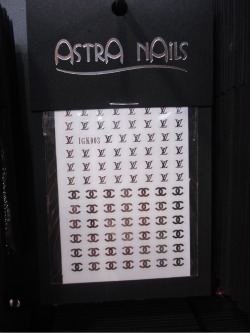 Who needs a Chanel bag when you can
have a Chanel manicure?
While I was wandering the halls, I bumped into celeb manicurist and all around nail guru Deborah Lippmann. She was scoping out what was hot for nails as well. When I asked her about the polish strips, she told me that while she thought they were a neat idea, she didn't see this catching on with any of her celeb clients. She sees this as more of a line for real woman who want to follow the trends, but don't want to spend a fortune going to the salon.
Another cool new brand I spied was Nails Inc. from the U.K. The trendy brand has women in England going mad for their polishes. They have 60 shades in their core collection and release two limited edition colors each month, as well as special collaboration collections. I spied some very cool crackle polishes in unexpected colors like pastels and neon.
The line was just picked up by Sephora, so expect to see them popping up in stores stateside this June.
Finally, I swung by the OPI booth to get a look at their brand new collection inspired by the upcoming Pirates of the Caribbean movie. The pastel shades are amazing and I was intrigued to hear that star Johnny Depp actually wears an OPI shade, Lady in Black, in the film. That same shade was also recently spotted on the toes of soccer star Christian Reynaldo, making me wonder if dark nails are suddenly the latest trend for stylish men.
Tomorrow I'll be touring the skin care and hair pavilions, so tune in then to find out the hot trends and cool new brands that caught my eye. Ciao!