What you carry your makeup around in can say as much about you as what you put on your face. You would be amazed at the makeup bags I see when I do private consultations, and what nasty things women come in toting. I see ripped plastic Ziplocs, dirty canvas free giveaway clutches and sometimes-ugly grey tackle boxes from local hardware stores.
Now come on, ladies, there are so many chic and inexpensive options out there so you can look well organized and classy at the same time. I made a list of five cute makeup bags I found under $20, so there is no excuse for bad carting.
The Calypso for Target Medallion Weekender Bag is a boho chic bag with a bamboo handle that lets like you carry all your makeup booty in a tropical carryall.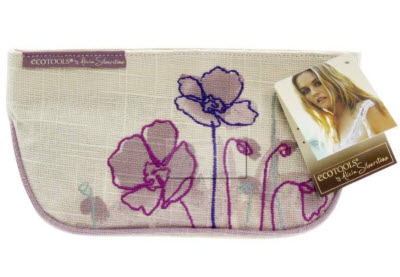 Eco Tools by Alicia Silverstone Cosmetics Bag is ecologically friendly recycled hemp, and its cool printed design is non-toxic.
Ulta's Black & White Striped Valet mimics the look of its incredibly famous and expensive doppelganger by Henri Bendel and saves you about $40 bucks!
If you can never seem to find anything and need a clear makeup bag for easy visual product spotting, try the Modella bags from CVS. With a myriad of sizes and shapes you can always find what you are looking for.
Last is the Prevail Makeup Bags from Duane Reade, which is more of a case and can house all your beauty booty!

Try on makeup in the Makeover Studio!
As an established makeup artist, many beauty brands send me samples of their latest products for consideration. I only write about the items that I truly love and I always abide by Daily Makeover's Editorial Ethics Pledge in each of my Positively Beautiful posts.