Ever feel like your look could use a makeover, but you're not sure where to start? That's how Janice, our latest real girl makeover subject, felt about her lengthy locks. The 18-year-old student and blogger had worn her hair long, usually in a ponytail or braids, for years. "When I was little, my grandma would give me bowl haircuts. I remember always looking like a boy, so I always stayed away from haircuts and kept my hair extremely long," she explained. She knew she was ready for a change, but wasn't sure what type of style would suit her. So we left Janice in the expert hands of hair stylist Ricardo Dinis, Aveda Global Artistic Director, Hair Cutting, at New York's Aveda Academy. Here's how it all went down.
Every haircut should start with a consultation (if a salon shuttles you off to the shampoo station before you've seen your stylist, run away), so that's where Ricardo began with Janice. If you've got any grievances with your hair, this is the time to make them known. Janice's number one concern? "My hair is super flat," she said.
Ricardo knew exactly where to go from there. "By keeping it long, you're working against gravity," he explained. When Janice mentioned that her hair grows quickly and that she'd be comfortable chopping off multiple inches, the two settled on a shoulder-length cut with a fuller fringe.
Your stylist's product prescription is also an important part of the consultation, Ricardo said. Hairdressers aren't just trying to sell you pricey bottles; they're looking out for your hair's well-being. While combing through Janice's hair, Ricardo noticed lots of flyaways, which tipped him off that her locks were in need of a moisturizing regimen, such as Aveda Dry Remedy Moisturizing Shampoo and Conditioner ($24 each, aveda.com).
Once Ricardo started cutting, the inches came off so fast, Janice barely had time to say goodbye to her old style. "When I saw my hair, I was definitely surprised. I've never had short hair before!" she said. After blowing out the hair, Ricardo put the finishing touches on the shape, and our subject was off to the makeup chair.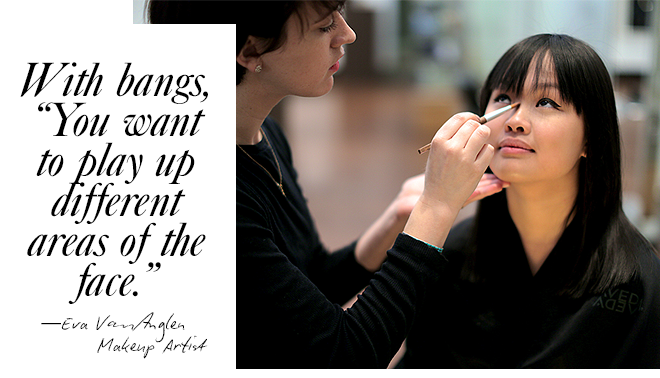 With bangs, "You want to play up different areas of the face," said makeup artist Eva VanAnglen. "She loves to play up her eyes, but once you have fringe, you can't always make eyes the focus, because it's almost hidden." So Eva chose to focus on a statement lip while adding dimension with highlights and color.
She prepped Janice's skin with tinted moisturizer and concealer, then used Aveda Petal Essence Face Accent in Hibiscus ($24, aveda.com), a palette with a nude highlighter and two shades of coral blush, to highlight the cheekbones and add color to the apples of Janice's cheeks. She filled in Janice's lips with Nourish-Mint Lip Liner in Barberry Bloom ($16) and added Nourish-Mint Smoothing Lip Color in Cana ($16), a red-orange shade, to the center. Of course, a makeover doesn't have to erase every aspect of your old look; if something's working for you, keep it. "She loves her eyeliner, so I left that on," Eva explained.
With her new cut, Janice is no longer stumped for styling ideas. "I can't wait to try new hairstyles and curl my hair and make it appear even shorter," she said. "I love whipping my hair back and forth. I love running my fingers through my hair and not catching any knots!" The best part? "I feel more confident with myself and with the new look."
Read more: Real Girl, Real Makeover: "I Went Red!"