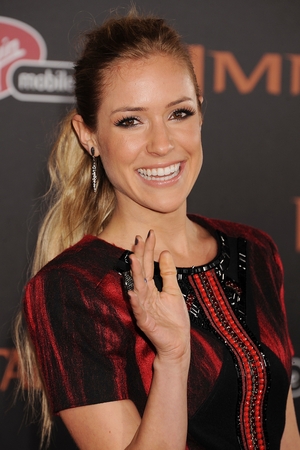 I get this question all the time, and the answer is NOT red lipstick and nail polish. I find that a much chicer and modern approach is to paint your pout and nails with a warm pink or shimmery nude color, and pair it with a retro lined eye. It's dated to look so matchy matchy with the obvious red lip and nail combo.
To create a lovely lady in red moment, start by sweeping highlighter under the brow, on the inner corners of the eyes and on top of the cheekbones to "Carmindize" the face. I love using the highlight hues from the collections of NYC Sparkle Dust, Mac Pigments, Makeup Forever Star Powder or La Femme Sparkle Dust, and use the Stila #15 brush to apply it on the eyes and the Benefit Fantail brush for the tops of cheekbones.
Now apply a neutral soft bambi brown shadow on the lid, and sweep a black liquid liner along the upper lash line ending in a wing at the ends of the eyes. A heavy dose of black mascara on top and bottom lashes will finish off the eyes. Apply a swirl of peachy pink blush to the apples of the cheeks and blend back into the hairline. Now apply a creamy matte or slightly shimmering pinky nude lipstick or a warm pink lipstick. Skip the gloss, match the nails to the lip and then hit the town in red-hot style!
As an established makeup artist, many beauty brands send me samples of their latest products for consideration. I only write about the items that I truly love and I always abide by Daily Makeover's Editorial Ethics Pledge in each of my Positively Beautiful posts.