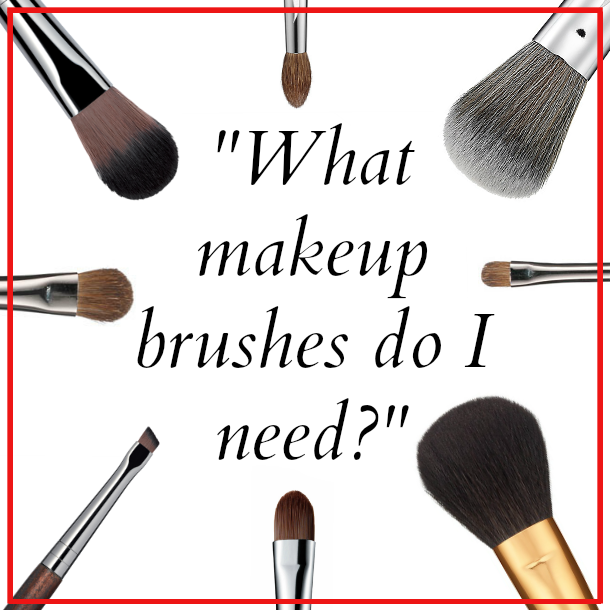 Today's question comes from Kaycee (and many others), who asks "What makeup brushes do I need?"
An excellent question! Like wandlore, the subject of brushes is a deep area of beauty study. The subject of brushes owes as much to individual preference as to science and structure. Everyone has passionately-held beliefs about which brushes are best; the mere question of "natural or synthetic?" is enough to get makeup lovers arguing passionately for hours.
But the truth is that unless you're a professional, you don't need a collection of seven hundred makeup brushes; you really only need eight. Yes, you read that correctly. Here are the eight makeup brushes that you actually need.
1. A flat concealer brush.

While you don't need this for all types of concealer (some of our favorites blend better when tapped with a finger), a good concealer brush is definitely good to have for applying product very precisely to small areas. Flat concealer brushes, like this brilliant one from Clinique ($19), let you pick up and blend even thick products perfectly; the slightly pointed tip on this brush in particular allows you to get very delicate with your application, which is brilliant.
Alternate uses: We love to use the flat side of concealer brushes to apply shimmery eye makeup; the firm bristles really let you pack it on, giving you a super-shiny finish. Just make sure you clean it well afterwards; nobody wants shiny under-eye circles!
2. A fluffy face powder brush.

Some people swear by sponges; we're here to tell you that brushes are where it's at for face powder application. Enabling you to add just the lightest dusting of powder to set and finish your makeup, a big, fluffy brush forces you to use a light hand (thus preventing you from pressing on so much product that you look like a powdered doughnut). Look for a brush with lots of very soft bristles and a slightly "domed" shape; Sephora's Pro Airbrush #55 ($34) is supposedly a foundation brush, but we LOVE it for applying our translucent powder after our foundation and concealer.
Alternate uses: If you're looking to add some shimmery color to your decolletage, a big brush lightly dabbed in a shimmery bronzer and dusted across your chest will give you the subtle shine you're looking for. Again, just make sure you clean it WELL afterwards.
3. A loosely-bristled blush brush.

The perfect blush brush is the difference between flawlessly rosy cheeks and Bozo the Clown—and nobody wants to be Bozo the Clown. The perfect blush brush is about the same width as the apple of your cheek, lightly domed, with loosely-packed bristles (this means that it isn't super-dense; lots of bristles will practically stamp color onto your cheeks, which is the opposite of what you want). We love Estee Lauder's Blush Brush 15 ($36); it applies the ideal amount of product to your cheeks and blends like a literal dream.
4. A flat highlighter brush.

If you're into strobing (and seriously, who isn't?), then you already know how crucial it is to have an amazing brush for highlighting. The best highlighting brushes are medium-sized, firmly bristled and rather flat, so that you can press shimmer onto your skin with the wide side, then blend it well with the edge. Brushes that are too fluffy don't have enough control; they dust the highlight everywhere, so you end up with a face full of sparkle. Hard pass. The best highlighter brush we've ever found is Make Up For Ever's 142 Flat Highlighter Brush ($37)—the slightly rounded edge is incredible for blending.
5. A firm-bristled angled brush for brows.

If you've been living in the world for the last few years, you already know that eyebrows are more important than ever. And whether you're just filling in some sparse spots or drawing in an entirely new pair (no shame, we've overplucked too), an amazing angled brush is a crucial beauty weapon. Look for a brush that has VERY firm bristles and a really narrow edge; the finer the actual angled part of your angled brush is, the more delicate you can keep your lines, and the more natural-looking you can keep your brows. Make Up For Ever's 274 Double-Ended Eyebrow Brush ($28) meets all of these criteria—it's the perfect brush to use with pomades, waxes, gels or powders, and the spoolie brush on the other side allows for additional flawless blending.
Alternate uses: Angled brushes are amazing for eyeliner. Simply tap the end of your angled brush in gel (or liquid) liner, brush off the excess on the back of your hand, then press along your lashline. Voila! Perfect liner.
6. A small eye shadow brush.

For applying eyeshadow to small spaces—like beneath the arch of your brow, at the inside corner of your eyes, around your tear ducts—you need a little brush. The perfect small shadow brush is slightly firm with soft, dense bristles and a rounded—never flat or rectangular—tip. The MAC 228 Mini Shader Brush ($20) is brilliant; small enough to get into all the delicate spaces yet big enough to still be useful, it perfectly applies and blends powder, cream and liquid formulas.
7. A medium-width eyeshadow brush.

For applying eye shadow to your lids and brow bone, you need a brush that's a little bigger, and capable of both brushing on a light wash of color and building a heavier line, too. Look for a brush about 1/3 the width of your eyelid, or the width of the fingernail on your middle finger, with fluffy yet dense bristles and a flat edge. The MAC 213 Fluff Brush ($24) is the big sister of the Mini Shader, and so versatile; it's amazing at applying shadow wet and dry, and blends like an absolute dream.
Alternate uses: Pressing the flat side of this brush into a light eyeshadow, then brushing it along the top of your cheekbone is a brilliant way to turn your highlight up to eleven; because the bristles of this brush are so dense, it really packs the shimmer from the shadow along your skin. Because why wouldn't you want your strobing to have strobing?
8. A tapered eyeshadow brush.

Blending is serious beauty business—amazing blending is all that it takes to elevate your look from simple to chic. And when it comes to blending eyeshadow, having a dedicated blending brush on your side is essential. The perfect blending brush is long, thin and flexible, with loosely-packed bristles and a tapered tip; this will ensure that it blends your eyeshadow products, rather than smearing them around. The Sephora PRO Tapered Crease Brush #19 ($20) is amazing—it looks like a paintbrush, and allows for such amazing blending from crease to corner that you'll feel like an absolute artist.
Alternate uses: Because this brush has a small, lightweight "footprint," it's perfect for adding contour to cheekbones. Simply brush a light brown shaping powder (or matte bronzer) under your cheekbones, then blend well.
If you have a burning beauty question, don't be shy! Drop us a line in the comments, on Twitter or on Facebook—we are happy to help!
More from Daily Makeover: "What Are The Best Coral Lipsticks?"