We're in the final stretch of American Idol and every little thing counts–even their hairstyle. And while last week we saw the departure of Allison Iraheta, the last woman standing, I always find it interesting how a contestant's hairstyle (even for guys) affects the final results. While a major set of pipes should be the most important feature by which a contestant is judged, their hair can have a major impact on who we really wind up rooting for. "If you listen to them sing without seeing them, you might not vote for them," says the show's hairstylist Raissa Patton. So what exactly is it about a hairstyle that can make a contestant "sound" better? We've boiled it down to the following points:
Past Winning American Idol Hairstyles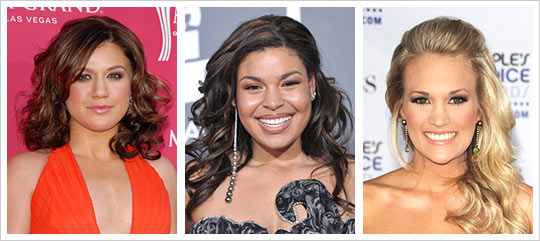 1) The likability factor. A soft, approachable hairstyle can potentially help make someone like you more. "The goal is to have hair that makes someone think 'Wow, I can be friends with her'," says Patton. "Bangs have worked with all of the contests because it makes them look softer. It's less severe than all one-length styles and more casual and approachable."
2) Encouraging eye contact. "Some contestants want so show their eyes to let viewers in," says Patton. Defined hairstyles that are swept away from the face let people make contact with your eyes, thus enhancing the overall emotional connection. On the flip side, a mop top that's draped over your eyes can be alienating.
3) Hair that moves is more trustworthy. "Watching someone's hair move when they're performing, instead of it being hard and stiff, makes you feel like they are more genuine," says Patton. The healthier your hair is, the more shiny and flexible it is. She tells all the Idols to use Garnier Fructis Shampoo and Conditioner. Her other secret weapon: FHI Heat Do More: Water Flat Iron, $120. "It has a narrow heating pad so you can use it to make waves, flip the ends out, or make it all straight," says Patton.
Want to give yourself a virtual American Idol hair makeover? Try on past and present Idol styles in American Idol Look Book now!