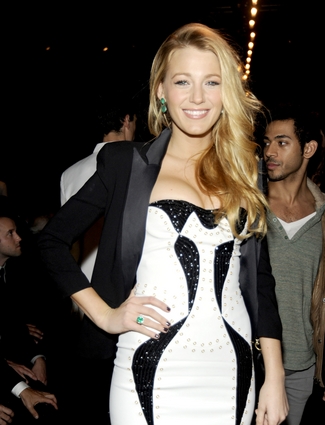 Photo: Bang Style
Shoes may not seem like a dangerous addiction but when they are Louboutins, we wish we could live on the wild side too.
The Gossip Girl star has admitted to buying up to 40 pairs of the designer shoes at a time. And no need for the actress to go shopping this season – the Christian Louboutin Spring collection was delivered to her house before the line hit the catwalk during New York Fashion Week.
Try on Blake Lively's hairstyles in the Makeover Studio
"My gosh, the spring collection was sent to my house today, and they're so beautiful," she told People.com. "They're amazing. I walked around my apartment wearing them."
Although she is considered a style icon of her generation, she does not have a stylist and seeks advice from Christian, a personal friend. She credits her style icons as Katherine Hepburn, Audrey Hepburn and Grace Kelly. "I would love if I could wear little cut-off gloves every day. That would make me so happy," said Blake. "I'd go to a grocery store in a beautiful hat with lace dripping over the eye."
Blake, the lace dripping may be a tip off for the paparazzi. Maybe you should stick to parading around your apartment with Louboutins.