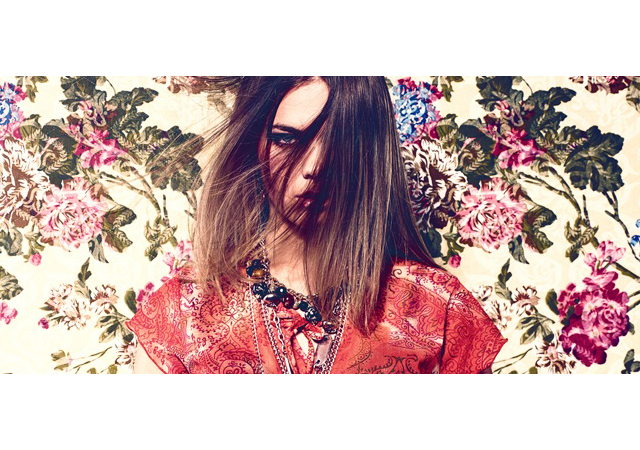 Let me get this out of the way… I'm a nervous wreck each and every time I get my hair highlighted. "Will it be too light?" "Will it be too dark?" "Will I look like a skunk?" I've been highlighting my hair since I was 12 and after one terrible incident during my sophomore year of college, my hair turned a horrid shade of pink. It took black corrective coloring (my hair is typically very light, so this was quite a shock), a full head of highlights, and not blow drying my hair for three months (so that it wouldn't break off) to get it back to my normal blonde.
Luckily, this situation has not repeated itself, as I've stuck to a coloring cocktail of a single process (to lighten my base) with a full head of foil highlights. While I've been extremely pleased with my color the past few years (living in New York, you have access to some of the top colorists!), I've always hated that distinct line where the foil stops. I had heard that you can avoid this through a process called "balayage," but I had never tried it, mainly because my colorist does not offer it and I'm a very loyal customer. However, when I had the opportunity to try balayage through an awesome Lifebooker deal at Le Salon East, I just had to jump at the chance to see what all the fuss was about!
If you're like me, you've definitely heard the term "balayage," but you are far from being able to explain it to your friends. Well I'm here to fill you in! Balayage is the process of actually painting (yes, with a paint brush) individual sections of hair with bleach and because no foils are involved, the final product is beautiful, natural, sun-kissed hair… with absolutely zero line! Below are details of my experience and a few tips on how to make the most of your balayage experience.
What You Need To Know Before You Go:
Love the hair color of celebrities and models (think Gisele and SJP)? Pretty much every celebrity and model uses balayage as their preferred method of coloring
Since the process is intended to achieve a natural look, you should really only go two shades lighter than your natural color
Whatever color your roots are, you will still see that color since you're painting individual pieces, but you won't have to do any lowlights!
It's the most customizable color option because you have total control over where the color is placed
Do NOT shampoo for at least 24 hours after! You MUST give the color a chance to bond to the hair. However, you can wet your hair and restyle… just stay away from the suds!
What I Learned About Balayage:
Balayage is not new. Colorists have actually been painting hair since the late 60's/early 70's
Your color will process much quicker than when you use foils because the dye is at least twice as strong. On a scale of 1-100, foils use bleach at a 20 and balayage uses anywhere from a 40-100
Be careful not to get any of the dye on your skin! Because the level is so strong, if it touches your skin, you will blister (but you always wear a robe, so you'll be fine!)
Who Should Have It Done:
Anyone who wants natural, sun-kissed highlights.
Anyone who is patient. Because the painting has to be so precise, it takes almost double the amount of time as placing foils.
If you want overall lightening, you should probably stick with foil highlights
If you have dry, over-processed hair, balayage is a definitely for you. While the color is very strong (which can lead to possible breakage), over time you can easily paint the same pieces and protect the rest of your head.
What The Process Is Like:
The process started with parting my hair… myself. Jason, the colorist at Le Salon East, informed me that if he parted my hair and it was even the slightest bit off from my normal part, I wouldn't be able to see the color he was placing.
My hair was then divided into three sections, one back and two on the sides.
Each section received 4-5 rows of carefully placed color. The typical amount of rows is 2-3, but I asked for a very natural, all over color so I received smaller pieces and more rows.
To make sure the pieces don't bleed together (the number one mistake with bayalage), Jason used tiny pieces of cotton as a little resting pillow
When each row was complete, he placed a layer of plastic wrap on top to keep the heat against my head and help me process even faster.
To speed up the processing, I was placed under heat for roughly 10 minutes
Finally, to achieve the exact color I wanted, Jason applied a gloss for 8 minutes. This also gave me amazing shine (you should always ask for a gloss at the end of any coloring, you'll thank me).
How Long Does It Take:
Expect to be sitting in the chair for the painting for at least 2 hours. The processing of the color is much quicker than foil highlights because the dye is so much stronger. You will definitely be at the salon for a total of at least 90 minutes
How Much Does It Cost:
Balayage is definitely on the pricier end because there is so much labor involved. It's more expensive than typical foil highlights because of the skill level of the colorist, but prices vary at salons, and luckily for you we have exclusive deals from Lifebooker below!
Once you try balayage, you will never go back to foils. Trust me on this one. The end result is phenomenal. All weekend I received compliments on how natural my color looked and that it was "a perfect shade of blonde." Next time you get your hair highlighted, try balayage. And if you're in New York, definitely visit Jason at Le Salon East.
Exclusive Lifebooker Deals:
NYC: $89 Balayage at Le Salon East
LA: $65 Balayage at Twist by Oliver Ifergan
SF: $65 Balayage at Mike Page Style Lab
[Image Courtesy of Lifebooker]