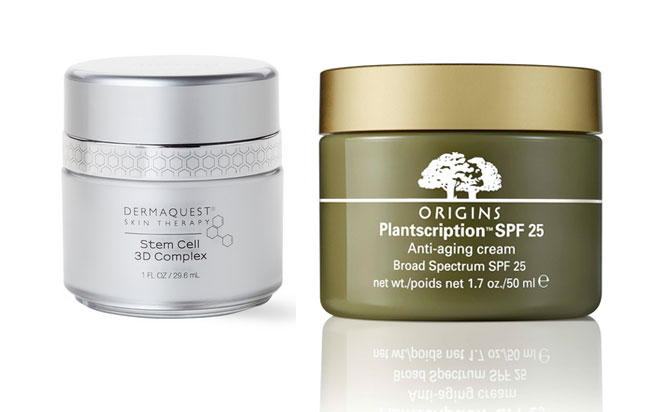 Stem cells are showing up in a slew of new anti-aging creams, but what are they, exactly, and why would you want to put them on your face? We got the full story from two top docs.
What are stem cells?
"Stem cells are undifferentiated cells that can develop into many things," says Dr. Elizabeth Tanzi, Co-director of the Washington Institute of Dermatologic Laser Surgery in Washington, DC.  In plants, stem cells are able to regenerate new plant parts in response to damage — and not just stems, but leaves and flowers, too. The stem cells in beauty products aren't the same ones you hear about in "stem cell research" and have nothing to do with umbilical cords. "To date, there are no human stem cells being used in topical products," Dr. Tanzi explains.
How do they work?
Plant extracts used in beauty products have active molecules — polyphenols, polysaccharides, minerals and amino acids — which work wonders for skin. "Traditional plant extracts give us antioxidants, hydration, skin lightening, collagen production and healing promotion," says New York plastic surgeon Stafford R. Broumand, M.D., F.A.C.S. and "plant stems cells are the source of those benefits." Why are stem cells better than regular plant extracts? They're highly concentrated and "the plant stem cells do not offer one active molecule at a time, but all of them at the same time," Dr. Broumand explains.
Two Products To Try
DermaQuest Skin Therapy Stem Cell 3D Complex ($245, dermaquestinc.com) features stem cells from the sea fennel plant and has been shown to reduce wrinkles by 15 percent in 20 days. Each jar of Origins Plantscription SPF 25 Anti-Aging Cream ($55, origins.com) contains 300,000 raspberry plant stem cells rich in biologically active compounds that correct lines, wrinkles and texture.