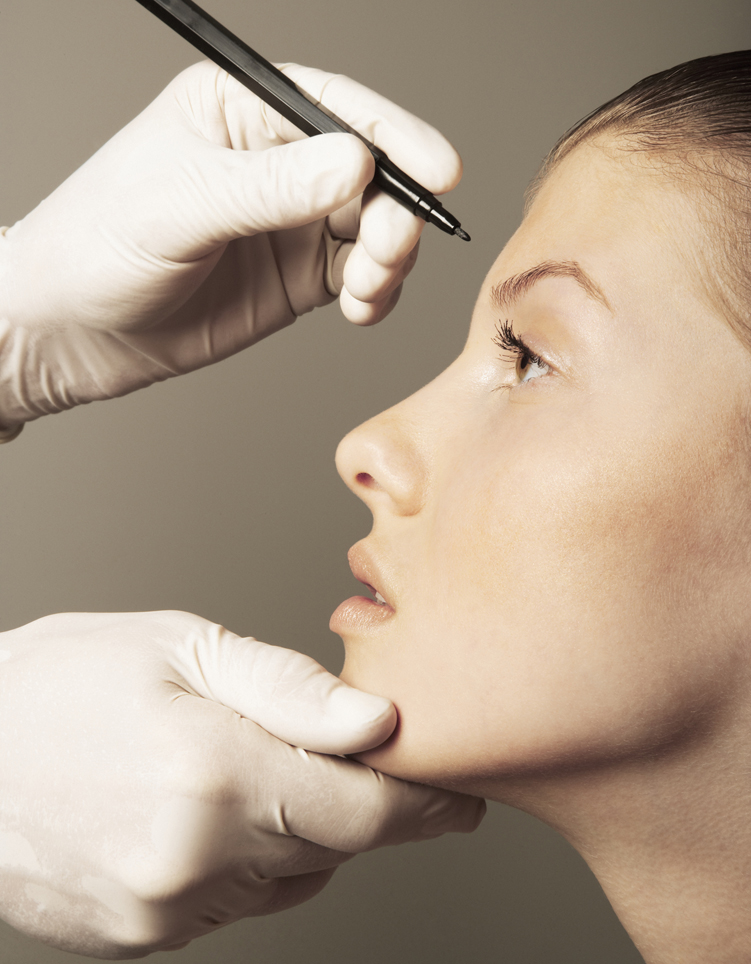 As a die-hard Real Housewives fan, I've seen my fair share of nip/tuck procedures. Everything from minor Botox injections to full-on facelifts have been documented on reality TV. While some plastic surgeries are necessary (deviated septum, anyone?), an annual study from the American Academy of Facial Plastic and Reconstructive Surgery showed that 73 percent of all procedures in 2012 were cosmetic versus reconstructive in nature.
Vampire Facelifts 
If you've ever dealt with acne scars, then you know what a bitch they can be to get rid of. After a certain amount of exfoliating, moisturizing, and lightening, it's time to throw in the towel — or, you can turn to Platelet-Rich Plasma (PRP) Therapy. During this treatment, doctors take a small vial of a patient's blood and spin it in a centrifuge to separate out the platelet-rich plasma before injecting it back into the site of the acne scars. It is believed that the PRP contains growth factors that stimulate the body to repair and restore tissues. If this treatment sounds familiar, it's because it's been referred to in headlines as the Vampire Facelift, and it has become a celebrity favorite for its ability to reduce the look of wrinkles. So how much does eternal youth cost you? Dr. Jeff Spiegel, a plastic surgeon in Massachusetts, said he charges $1,000 a pop.
The Lunch Hour Lift
It seems more and more people are looking to get the effects of a facelift without the actual surgery, which explains the Lunchtime Facelift that Dr. Samuel Lam performs at his Dallas, TX practice. "Traditional facelifts can cost as much as $30,000 and require weeks of recovery," says Dr. Lam.  "Minimally invasive and non-surgical procedures are gaining popularity as they can be performed in one to two hours and are at a much lower price point." So what does the mini-procedure involve?  Botox, filler injections to combat sagging, laser resurfacing to remove discolorations, and Oxygenetix, a specifically formulated "breathable" makeup that promotes the healing process while concealing swelling, so women can head straight back to work. I'm sure this type of treatment might come in hand in the future, but for now I'll stick to eating a salad at my desk.
Fat Freezers
At Spatique Medical Spa, clients are able to contour their bodies with CoolSculpting,  a non-invasive treatment that uses Cryolipolysis, a method of cooling fat cells in the targeted areas, so excess fat cells gradually break down. Over the span of a few months, the body will begin to filter out the fat cells, so your body is slimmer, though results can start to show as soon as three weeks. Although the pricing on CoolSculpting varies per person, it starts at $700.
Another "cold" treatment is the Venus Freeze, a non-invasive treatment that combines radio frequency and magnetic pulses into a technology called (MP)². It causes a thermal reaction in the skin tissue so new collagen forms, making skin look and feel firmer. This particular treatment is for those that might want to get rid of sagging skin or cellulite.
Eyebrow Transplants
Have you  over-plucked your eyebrows only to never see them return? If you have, you aren't alone. Even actress Olivia Wilde admitted to having sparse brows after too many tweezing sessions. Now, instead of using a brow pencil to fill in hairs, there are eyebrow transplants. According to Good Morning America, Dr. Sanusi Umar, who got his start doing hair transplants on scalps, now performs a procedure that takes the hair from a patient's neck or legs and transplants it to her brows. Each hair is transplanted one at a time during a surgery session that can take up to two and a half hours. And it's not just time you'll be spending; this procedure costs between $6,000 and $8,000.
Laser Lipo
Dr. Aaron Rollins is a favorite among celebs for his ability to zap pesky arm flab (and other trouble spots). He has a patented treatment called the Airbrush Laser Lipo Sculpture, which drains excess fat without leaving scars or stitches behind. So instead of a needle or scalpel, a special device is used to create a 2mm entry point (about the size of an eraser at the top of a pencil) to suck out fat. Unlike traditional liposuction, patients aren't put under for the procedure, since it's less invasive. 
Are you tempted to try any of these out-there treatments?