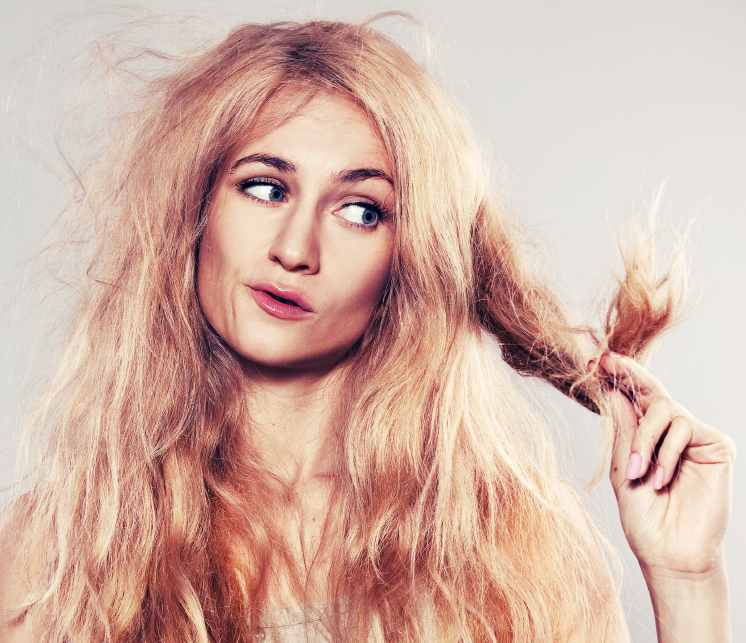 We've all got hair issues, and while many times the biggest problem we're struggling with is how to wear our hair to a formal event, there are other, less talked about hair problems that also need fixing. Whether it's something simple like static or strange like hair that's only curly on one side, below are eight weird hair problems and how to go about fixing them.
Static: The best way to get rid of static-y hair? Dry shampoo, which will reduce any moisture or oil happening, plus give your hair the hold it needs to not fall prey to static. Spray from root to end and comb through your hair with your fingers to evenly distribute the product.
MORE: 25 Tips for Never Having a Bad Hair Day
Breakage: Whether it's at the middle or bottom of your hair shaft, breakage is never pretty. To help prevent breakage from happening any further, work on being more gentle with your hair. Use a t-shirt instead of a towel to dry it once you get out of the shower, invest in a silk pillowcase, and use a hair mask to repair your hair.
Bald spots: Talk to your doctor about any medications that you may be on that could be causing a bald spot, then speak to your dermatologist about the skin in that area. Use a gentle shampoo and conditioner and take time to relax, as stress can cause balding or thinning hair.
Taking too long to dry: Your hair takes longer to dry when it's dry and damaged, because it's trying to hold onto as much moisture as possible. Healthy hair dries faster because the cuticle is stronger. Resolve to use heat styling on your hair one or two days less a week than you normally would, and add a hair mask into the mix once a week. Getting your hair healthier means it will dry faster.
Only curly on one side: This could be due to how you part your hair, so try parting hair differently so that the weight is evenly balanced out. If one side is still curlier than the other, use a diffuser and product to help the less curly side match the curly side. Shorter hair curls more easily because it weighs less, so you can also think about getting layers to lighten up your hair.
MORE: 15 Things Only Girls With Curly Hair Will Understand
Stopped growing: Your hair may stop growing past a certain point for various reasons. From genetics to stress to diet, shoulder length may be all your hair can do on its own, but if you're able to control certain factors, you should. Try lowering your stress level, change your diet to include foods that will help your hair grow, and add in a fish oil or biotin supplement that can promote hair growth.
Dandruff: If your skin can get dry and irritated, it only makes sense that your scalp can, too. Switch to a shampoo and conditioner specifically formulated for dry scalp or dandruff, only wash your hair in mild warm (not hot) water, and turn down the heat on your heat styling tools. Also, try using coconut oil on your scalp to relieve irritation and rehydrate.
Thinning Hair: This one could also be due to genetics, but thinning hair can be combatted with a change in your diet and the addition of supplements. Plus, there are tricks to make your fine hair look thicker, like using a thickening spray before blow drying or getting a haircut with tons of layer and texture. 

Image via Istock