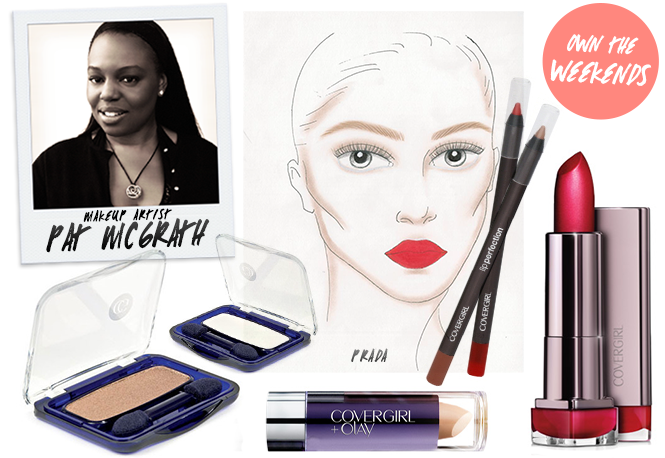 Besides brunch and vintage shopping, our favorite part of the weekends during the summer is trying out beauty looks too daring for the rest of the week. If we had things our way, we'd be wearing matte red lipstick every day, but office settings don't always lend themselves to statement-making looks. Whether it's a dramatic cat eye at night or a bold lipstick during the day, the weekends were made for experimenting with cosmetics, and experiment we will.
The majority of our makeup inspiration comes from the runway, where trends are created from the hands of world renowned makeup artists. Perhaps one of the most iconic makeup artists in the world, Pat McGrath is Proctor & Gamble's Global Creative Design Director and the genius behind the makeup looks on the runway for designers like Prada, Lanvin, Dolce and Gabbana and more. Considering Pat has designed countless looks that have inspired our own beauty routines, we had to chat with her. After learning how to get the Prada SS13 makeup look at home and hearing Pat's sage beauty wisdom, our summer weekends are sure to look more beautiful than ever.
Beauty High: The look you created for Prada's SS13 show was one of your "Maximal Minimalism" trends for the season. Can you explain how you achieved such a precise, vibrant lip? 
Pat McGrath: The red lips were very bold against the alabaster skin at Prada for Spring Summer 2013. To achieve the precise, vibrant lip:
For the smoothest base, exfoliate lips with your fingers in a circular motion using a dab of Laura Mercier Face Polish to remove dead skin cells.
 Then start by lining and filling in the entire mouth with CoverGirl LipPerfection Lipliner in Passion.
Apply CoverGirl LipPerfection Lipcolor in Hot on top for long lasting wear.
This look also had just a touch of brown on the eyelids and white at the inner corners of the eye. Why did you decide to do this? 
The soft touch of taupe shadow paired with white at the inner corners of the eyes seamlessly compliments the bright red lip. Highlighting the inner corners of the eyes brightens up the face with a natural luminosity. Try CoverGirl Eye Enhancers 1-Kit Shadow in Tapestry Taupe on eyelids.
For inner corners of eyes: Try CoverGirl Eye Enhancers 1-Kit Shadow in Snow Blossom.
You made a lot of beauty editors take a double-look by tracing the cupid's bow in white instead of just highlighting it. Was there reasoning behind this? Do you think this is a step that can be worn in real life?
It's all about the oversized, elaborate lip and adding a white illustrated curve along the cupid's bow which makes the lips appear fuller because it emphasizes the lip shape. Yes, this is an easy trick to wear in real life, try a nude liner and it will have a more subtle effect, such as CoverGirl LipPerfection Lipliner in Seduce.
What advice would you give to girls trying to achieve a such a bold lip color? How can they make it last past the runway?
The trick is to remember to exfoliate your lips and consistently moisturize them with lip balm. Try CoverGirl LipPerfection Jumbo Gloss Balm for a conditioning, sheer color as a base. Another tip is to line and fill the entire mouth with lip liner before applying lipstick for long lasting wear. Try CoverGirl LipPerfection Lipliner. Blot lips with a tissue. Then layer matte color by applying lipstick with fingers. To prevent feathering, blot with tissue again and set color with a very light dusting of translucent loose powder.
What do you find is the beauty advice that you give the most often? 
The best beauty advice I give the most often is the old age question on how to match foundation impeccably with your skin tone. Make sure to check in the natural daylight and swipe the product on the neck, nose, chin and forehead. If it is a seamless match, you won't see any streaks.
Concealer is a great primer before applying both nude and bold lipstick. It helps with drawing a precise line and keeps the color in place. For a beautiful vibrant lip, start with a dab of CoverGirl + Olay Concealer Balm, then line your entire mouth with CoverGirl LipPerfection Lipliner in Passion. Finish the look by applying CoverGirl LipPerfection Lipcolor in Tempt.

For more information about our relationship with CoverGirl click here: cmp.ly/3