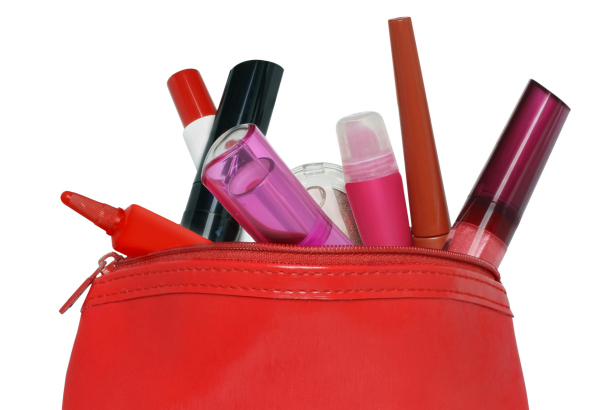 As we cruise into the 4th of July long weekend, our thoughts are naturally focused on rest, relaxation…and our beauty game. Whether you're heading to the beach, lake or BBQ, odds are your weekend is going to be jam-packed with outdoor activities, which means you'll be exposed to beauty-destroying issues like sun, and sweat and humidity. The solution? Smart packing. As long as your makeup bag contains these 12 beauty essentials, you'll look super hot in all of your vacation Instagrams. Here's your indispensable packing guide to long weekend beauty essentials.
1. Face wipes.
When you're out until sunrise having fun at the beach, it can be hard to remember to wash off all of your makeup before falling into bed. Make it easier on yourself and pack a bag of makeup removal wipes to keep by your pillow. We like Josie Maran Bear Naked Wipes ($12) because they're free of parabens, synthetic fragrances, sulfates, dyes, and alcohol—plus they contain hydrating argan oil.
2. Mini makeup.
The Stowaway Kit ($75) is perfect for travel. Not only do you get six high-performance products—Radiant Complexion BB Cream, Creaseless Concealer, Cheek & Lip Rouge, Creme Lipstick, Effortless Eyeliner, and Defined Lash Mascara—but each Stowaway product comes in an adorable travel size. And if you don't want the entire kit, you can also purchase Stowaway products individually. Now you no longer have to worry about bulky makeup taking up space or a product going bad before you've used it up.
3. Blotting sheets.
You're bound to get shiny while you're running around in the summer heat, so be sure to bring reliable blotting papers to erase any midday oiliness. We love Palladio Rice Paper Tissues ($4). They easily fit into the smallest pocket of your bag or shorts, and do a great job of soaking up oil while adding a whisper of natural-looking translucent powder.
4. Facial mist.
There's lots of awesome face mists out there, so choosing the right one for you depends on what you want to get out of it. Need your makeup to last? Try Make Up For Ever Mist & Fix ($14). Want some extra sun protection? Reach for Supergoop! Defense Refresh Setting Mist SPF 50 ($28). And if you just want a refreshing mist to help you relax on your vacation, use First Aid Beauty Vitamin Hydrating Mist ($16) for a beauty-boosting surge of hydration.
5. Dry shampoo.
This is a must for refreshing dirty, greasy hair during a busy vacation—and it has to be travel-sized, of course. We recommend Drybar Triple Sec 3-in-1 ($13) because it gives volume and texture in addition to soaking up sweat and grease. Amazing.
6. Sunscreen.
Obviously you'll need a reliable sunscreen for your time in the summer sun, but which one? Sunscreen is pretty personal, and finding one that works for you depends on lots of different factors. That said, we recommend choosing a sunscreen that has at least SPF 30, has no fragrance, and contains physical sunblock (which is better for sensitive skin). We recommend Neutrogena Pure & Free Baby Sunblock Lotion SPF 60 ($12) which hits all of those marks, and is easy to blend to boot.
7. Portable perfume.
Nobody wants to lug a delicate (and expensive) bottle of fragrance with them on a trip, but that doesn't mean you can't still bring your favorite scent with you. Most perfumes offer a rollerball option. We love this limited edition Tocca Beauty collection of light, flirty fragrances aptly named Girls On The Go ($15) for summer. You could also purchase a refillable perfume atomizer like this one and fill it with any scent you like. Solid perfume is a great option too; we love Pacifica's many delicious-smelling options ($9) and the adorable little tins they come in.
8. Tanning towels.
It goes without saying that you're protecting your skin from sun damage by wearing SPF during your vacation (RIGHT?), but that doesn't mean you can't still sport a healthy glow. But if you need to re-up that self-tan, you might be tempted to drag potentially messy tubes of lotion in your luggage. Instead bring Tan Towel Plus Self-Tan Towelettes ($27) which take up minimal space and are incredibly easy to use.
9. Sun damage control.
So you accidentally got more sun than your SPF could handle. It's not ideal, but it happens. That's why you should have a bottle of Maui Babe After Browning Lotion Tan Enhancer and Healer ($13) on hand. It won't undo any sun damage, but it will moisturize and soothe your skin so that you recover without peeling or dryness.
10. On-the-go makeup palette.
If you have a glam event to attend, you'll need to bring a streamlined selection of makeup. But who wants everything they own bouncing around in their bag? That's why a makeup palette is a great idea. The Urban Decay Naked On The Run palette ($54) has everything you need: blush, bronzer, six eye shadow shades, eye liner, lip gloss, and mascara. The only other thing you have to remember to pack is an eye shadow brush, and you're good!
11. Pocket eyelash curler.
Oh, and you may want to pack an eyelash curler as well. Skip the typical bulky kind and instead pick up one of these adorable, travel-friendly Japonesque curlers ($13) that fit in a pocket.
12. Makeup bag.
Finally you need a cute bag for everything to go in. For a summer trip, you'll probably want a bag that's a little bigger than your usual everyday makeup bag. Enter this Trina Chateau Le Want Weekender bag ($30). The pretty print screams "summer vacation" and it has plenty of room to hold all of the essentials, plus pockets to keep them organized.
More from Daily Makeover: How to Get the Perfect Fake Tan.