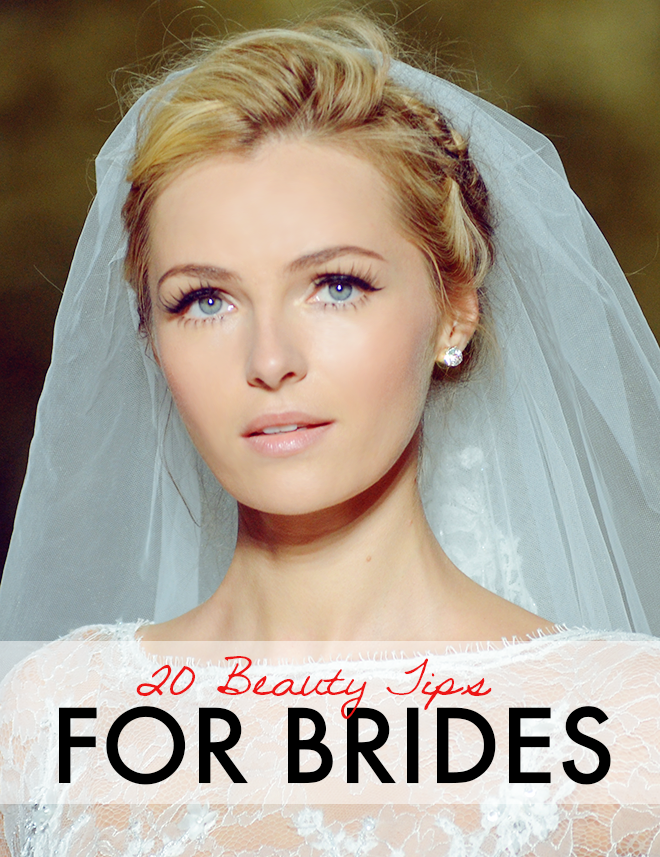 On your wedding day, you'll be photographed approximately eleventy-billion times — which means the beauty stakes are high. While your photographer can probably retouch a few flyaway hairs or a bit of lipstick on your teeth, you're better off preventing bigger blunders, like mismatched foundation or faded hair color, well before they ruin your look. To help you look your most beautiful on the big day, we've compiled these 20 essential beauty tips from top hair and makeup pros.
Kimberly Soane, Director of Global Artistry for Bobbi Brown Cosmetics:
1. To create a long-lasting matte finish on your lips, "Take a powder blush and tap it on top of your lipstick."
2. Pack your purse with day-of essentials: "Everybody should have cheek, lip and powder. Blotting papers are a great option for dry skin." Also, "everyone has that one area that they worry about, so have that product with you. For me, it's my under eye concealer. If you're worried about your eyeliner wearing off, then take your eyeliner with you."
3. For a photography-friendly highlight, opt for a shimmery powder blush or powder highlighter in lieu of liquid formulas. "Liquid might look great when you first walk down the aisle and in the first couple of photos, but then four hours later, it can look a little greasy."
4. Don't feel like you have to wear false lashes just because you'll be photographed. "If you're not 100 percent comfortable with false lashes, then skip them the day of."
5. To help your lip color last, apply lip liner not only as your first step, but as your last one, too. "A great Bobbi tip: Fill in the whole lip first with lip liner. Layer your lip color, press with a tissue, apply more lip color, so you're building formula, and then finish with more lip liner. Liner is great because it will help fill in the shape."
6. Avoid any beauty treatments that could go awry in the days leading up to your wedding. "Don't tweeze or wax brows the day before. Don't go to the tanning bed the day before, don't do self-tanner." (If you do need your brows or self-tanner done, leave plenty of time and see a professional you've worked with before.)
7. When choosing your foundation, "Make sure that the color is right." Take a sample home and see how it looks while wearing a white towel.
8. Make sure your face, neck and chest are all the same color. "Necks are whiter than the decolletage or face, so if you have a bit of face powder or bronzer, put that on your neck so you get a softer transition of color through the three."
9. "If you want to use powder shadows, make sure you're starting off with an eye shadow base that's long wear."
10. "Buy a fresh new mascara for the wedding, because mascara wears out." And don't even mess with non-waterproof formulas.
Mark Townsend, Dove Celebrity Stylist:
11. "Been growing your hair before your wedding? Don't be a bride with fuzzy split-ends. Schedule a trim three weeks before your cut, which leaves plenty of time for tweaks."
12. "Tiny colored accents—whether it's a crystal barrette, or a colored bobby pin—are everywhere. Use them as your something blue, or as a fun, subtle way to match your bridesmaids."
13. "A face-framing tendril or a few pieces around the face look great in pictures—but can get limp and sweaty on the dance floor. Rather than tucking behind your ear, twist and pin with a bobby pin to keep them cutely off your face."
14. "Wedding day updos need to stay in place long after you say 'I do.' For extra security, spritz hairpins with the Dove Refresh+Care Invigorating Dry Shampoo. It gives them a subtle matte finish that helps them stay put through cocktails, cake and the Electric Slide."
15. "If your hair isn't naturally curly and you're worried about spirals loosening up on the dance floor, hit the hairspray before and after styling. Misting the Dove Style+Care Strength & Shine Extra Hold Hairspray onto each section before wrapping sections around a curling iron will really lock in the shape."
16. "Top knots are a trend that just won't quit, and they're perfect for walking down the runway or the aisle. It's a great way to elongate your neck, or show off a really elegant or ornate dress."
17. "Is your hair color-treated? Don't wait until the last minute to get a refresh for your wedding day. Plan to get highlights two weeks out, or a single-process the week before."
Ryan Mitchell and Daniela Schult, Hair Stylists, Cutler Salons:
18. "Don't go too over the top. Keep it simple. I don't think it's a good idea to veer too far from your natural look. You want to look like you; you don't want to look like something that you saw in a magazine. That's my biggest advice when I have a bride." – RM
19. To keep texture from falling flat (especially during a summer wedding), set curls or waves with bobby pins. "If you do a classic set where it cools down around that shape, it's going to hold. Set the hair first, then do your makeup, then take it out." – RM
20. "It's very important to see a picture of my client's dress beforehand," says Schult. Always bring a photo to your hair trial.
Read more: Real Bride Makeover: Hair And Makeup For A Vintage-Inspired Wedding