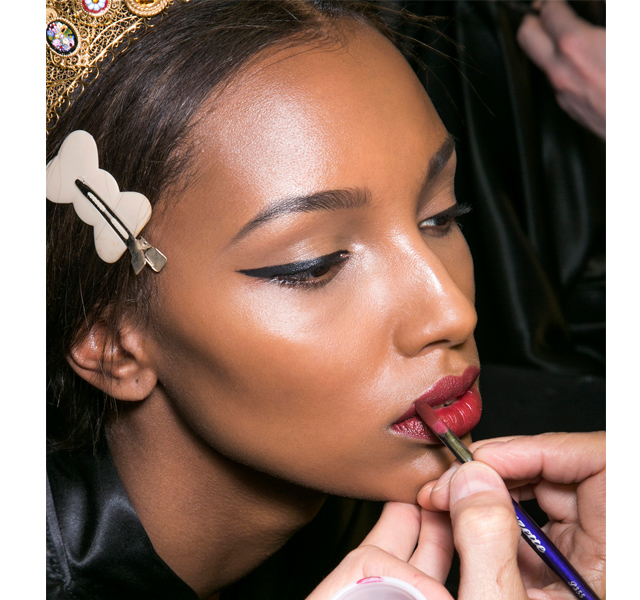 The cat eye is one of those classic makeup looks that we all want to master, and once we know how to do it, it goes and evolves on us. Now we're spotting cat eyes layered both on top of lash lines and underneath, giving Twiggy a run for her money. We sat down with Gita Bass, celebrity makeup artist and member of the Simple Advisory Board who talked to us about how to get a cat eye that is not only wearable, but that's also "gasp" easy.
Since Simple's philosophy is to use products that don't have harsh chemicals, dyes or fragrances in order to give us gorgeous skin (without the flare-ups), Bass advised us to get our perfectly flawless palette, and then pencil in our cat eye for a sleek liner look. Below, we break out her tips for exactly how to get the look.
Keep Your Shadow to a Minimum: If you want a wearable cat eye, don't go too heavy on the shadow. A natural shadow or a naked eye will be the perfect backdrop to your graphic eye.
Use a Pencil For a Great Base: Using a soft black pencil, make the cat eye head towards the tip of the brow and then you can also use the angle of your bottom lash line as the angle of your cat eye.
Clean Up Your Edges: If you're having trouble getting the perfect angle, roll up a Simple Eye Makeup Remover wipe (which will give you a straight edge) and wipe it along the edge of your cat eye angle to make it crisp at the edges.
MORE: Kim Kardashian's Makeup Artist on How to Get the Smokey Cat Eye
Even Up Your Line:  Always check both eyes in the mirror to make sure they are even, and you can always use your makeup remover wipes to fix one side to match the other. Also, always go in between your lashes to make sure your liner is right up against the lash line.
Trace Your Pencil Liner with Liquid: Choose a liquid liner with a really fine tip so that it's easy to apply. Using really small strokes, simply trace over the pencil look that you've already created.
Keep the Rest of Your Makeup Simple: Add a bit of blush and a nude lip or gloss, but keep the rest of your makeup to a minimum to highlight your graphic liner.
Photo via Imaxtree