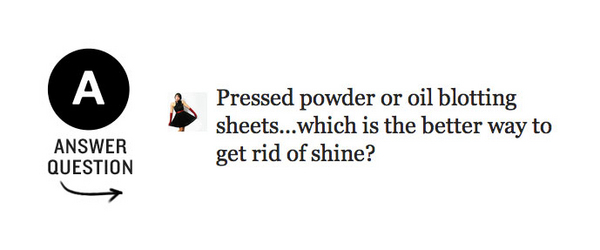 Earlier this week Kristina Rodulfo asked the question Pressed powder or oil blotting sheets which is the better way to get rid of shine?. We reached out to you for your advice and best-kept secrets.
Here are the answers we have so far:
Sarah Lindig: Oil blotting papers! Too much pressed powder can make you look cake-y. Never good.
Amanda Shortall: I am fan of both – Oil blotting as the cure for shine and a light dusting of pressed powder to prevent!
Christina Bellevue: I agree, oil blotting papers first, then a light dusting of pressed powder is the best thing to help reduce shine IMO. I really like Clean and Clear's Shine Control papers and Cover Fx Mattifying Pressed Powder, I've been using this combo for years and it works well.
If you havent already, be sure to check it out and leave an answer yourself! Also, check out our other questions and see which you can answer!