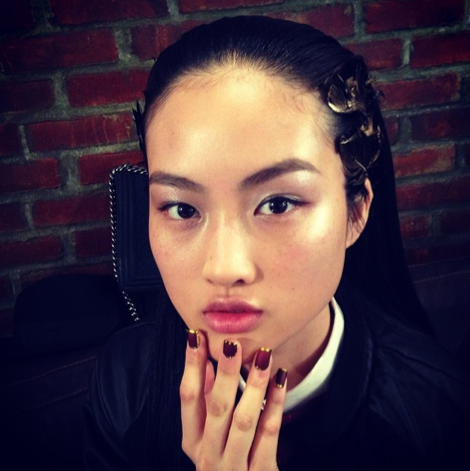 With so much excitement happening during New York Fashion Week, things tend to get a little overwhelming. Throughout the week, we'll be heading backstage to get the scoop from the lead hair and makeup artists working with brands such as Bumble and bumble and MAC Cosmetics, keeping you up to date with all of the glamorous trends hitting the runway this season.
Here, we're giving you the 411 on where to follow us during the most thrilling time of the season, as we spot the latest trends and answer those grueling beauty questions – will there be more colored hair on the runways? Will nail art be out? We'll keep you updated the moment it happens, and we're excited for your follows, comments, tweets, and hashtags while you come along with us backstage at fashion week!
Follow @BeautyHigh on Twitter for the latest updates on what we're seeing and hearing from the stylists and artists. Plus, remember to join us for #BeautyChat on Fridays from 2-3 p.m. EST.
Like Beauty High on Facebook for how-to tutorials, stories on the trends we're seeing throughout the shows, and roundups of our favorite looks.
Follow @BeautyHigh on Instagram for an up-close look at the hair and makeup, plus tell us what you think of the looks that will be the next trends.
Repin to your heart's content with Beauty High on Pinterest where we'll be posting everything that happens on our Backstage at Fashion Week board.
Whether you tweet, Instagram or Pin, we want to keep you in the loop during #NYFW.
Image via Beauty High Instagram