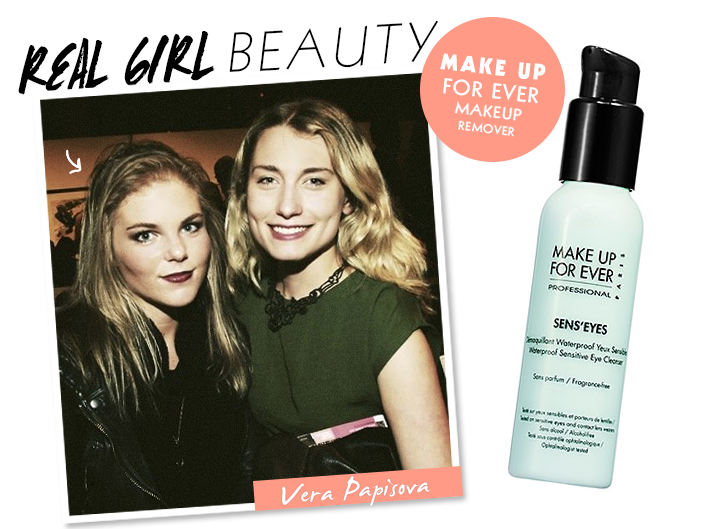 Going backstage and learning tips and tricks from the professionals may be an adventure, but sometimes, the best tricks come from real girls. In "Beauty and the Real Girl," we learn the best beauty tips, tricks and secrets from girls just like us.
We take our eye makeup very seriously. Besides just finding your favorite kind of look, whether it be winged eyeliner or a subtle smokey eye, it's of the utmost importance that you find products that stay put for as long as you need them to. That being said, some products are almost too good, and getting them off at the end of the day can be a bit of a hassle.
Vera Papisova, a writer in New York, swears by her long-lasting eye makeup, but she's also got an eye makeup remover that wipes away stubborn makeup without taking her eyelashes with it. We caught up with Vera to find out how she keeps her eye makeup looking so amazing, and how she keeps her eyes from being irritated at the end of the day.
MORE: Beauty and the Real Girl: Why You Should Be Using Coconut Oil
"I usually go for a cat eye during the day with the Waterproof Artliner from Lancome and then at night I smudge it out with a black Dior Kohl pencil and a grey Chanel Cream Shadow. I always top it off with a waterproof mascara and sometimes a pair of lashes. Everything I use is waterproof and long wearing, and most makeup removers require a lot of rubbing that irritates my eyes and pulls out my eyelashes. Make Up For Ever Sens'Eyes Waterproof Sensitive Eye Cleanser is the only eye makeup remover that can get all the product off without costing me billions of eyelashes."
Image Courtesy of Vera Papisova
Where to Buy: Make Up For Ever Sens'Eyes Waterproof Sensitive Eye Cleanser, $24, Sephora.com