Have you ever woken up really late and felt sluggish, tired and puffy in the morning? When you look into the bathroom mirror are you let down with dull looking skin and that not-so-spunky feeling? We have all been there honey. The clock is ticking and instead of feeling dreadful and rushed, just turn to yourself in that mirror say, "baby you're hot" and follow these easy wake up your face steps that will bring you back to life fast and get you out the door quickly feeling fabulous!
First thing is to keep a gel eye mask in the freezer and pop that on first thing in the morning for a few minutes while you start your coffee or tea. I like the Body Benefits Soothing Gel Mask.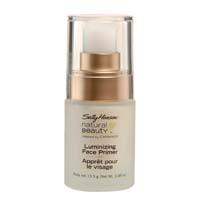 Next smooth on my Luminizing Face Primer from Sally Hansen Natural Beauty Inspired By Carmindy. This will restore your radiance with light reflecting pigments and give your complexion the glow it needs to look revived. Smooth on foundation and swab on a little under eye concealer in a light pink shade to bounce light under the eyes, erasing the fatigue. My All Over Brightener Fast Fix Concealer is my best friend and I never leave the house without it even on a full eight hours of sleep.
Dust on just a hint of translucent powder and swirl on a pop of pink blush to the apples of the cheeks. Dandelion Blush by Benefit is the perfect perk-up powder to do the job.
Go easy on eye shadow and instead focus on creating a highlight and lift effect. Sweep on a shimmering highlight shadow across the entire lid from lash line to under the brow and curl and coat the upper lashes only with black mascara.
Now swipe on a pink lip gloss and run out the door looking wide awake and hot as can be!
As an established makeup artist, many beauty brands send me samples of their latest products for consideration. I only write about the items that I truly love and I always abide by Daily Makeover's Editorial Ethics Pledge in each of my Positively Beautiful posts.