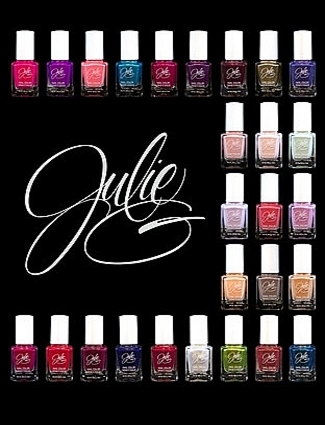 Photo: Jesse's Girl Cosmetics
Bloggers have redefined the beauty industry with product reviews and now it appears that vloggers (or video bloggers) have gone the next step by showing how to use these products in action. Celebrity photos are great for inspiration on new hair and makeup looks but there is nothing like a tutorial to give you step-by-step instructions.
So it came as no surprise to us that women so influential in the cosmetics industry would want to provide how-tos with their own products. The latest venture for beauty vlogger Julie Gutierrez is her own full nail collection with Jesse's Girl Cosmetics. Is it us or could this be hotter than a fashion or celeb collaboration?
"We believe it is the first YouTube blogger to have her own line in the mass market," Jesse Lawrence of Jesse's Girl Cosmetics told WWD.
I had the pleasure of meeting with Julie G (as she is known on YouTube) to talk about her line and how her channel has accumulated more than one million subscribers!
Clever Ways To Organize Your Beauty Supplies
This is the vlogger's second collaboration with Jesse's Girl. Last August, she had a limited edition 8-piece collection. But now she has designed and inspired a full 27-piece collection with all of Spring's hottest new shades including Julie's Fave, a coral, and Gelato in Venice, a mint green (my personal favorites!). All of the polish names have personal meaning to the vlogger, stemming from personal experiences such as her time studying abroad in Italy.
Julie told me that she started vlogging four years ago because she loved applying makeup. Before she knew it, she had 400,000 subscribers. Lawrence found her channel while searching for video tutorials using his nail colors. He loved the way she connects with her followers and…the rest is history.
The collection will be available in all Rite Aid stores by the end of this month. And for some nail inspiration, check out a nail tutorial she created for our teen site!