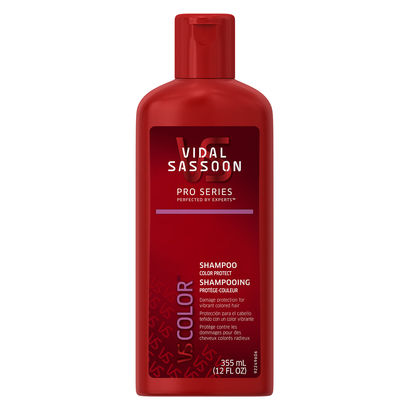 At Beauty High we constantly have new products crossing our desks and are always on the hunt for the next best thing. "The One Thing" is our way of sharing with you that must-have product that you need to introduce to your lives right now, even if it means skipping Starbucks for a couple of days.
When the weather is the dull outside the last thing you want is to have dull hair, which can happen if you dye your hair. Winter is a great time to experiment with hair color, especially the red hues that are a big trend right now with celebrities – but that means you need to take good care of it so the color will last. Even if you're visiting the salon every six weeks as suggested, you should be treating your hair with care in between visits. That's why a good shampoo for color-treated hair is a must and Vidal Sassoon's new Pro Series Color Protect Shampoo does the job.
What Makes It Different: 
The rich formula deeply nourishes your hair, leaving it super soft after every shower.

It protects your colored hair (even bright, fashion-forward hues) from damage  and fading, so your color will look as vibrant as it did when you left the salon.
Your hair will be left healthy and shiny and the rest of the Pro Series products make it easy to protect your hair and keep it glossy.
Why It's The One Thing:
The shampoo lives up to its name and it's the only one you'll need to protect your colored hair. Say goodbye to fading, damage, or dullness because this shampoo will keep your hair vibrant, even after six weeks of your dye job. So don't be afraid to try that color you've always wanted to try because now it's easier to maintain and protect for a great price!
Vidal Sassoon Pro Series Color Protect Shampoo, $3.49, pgestore.com