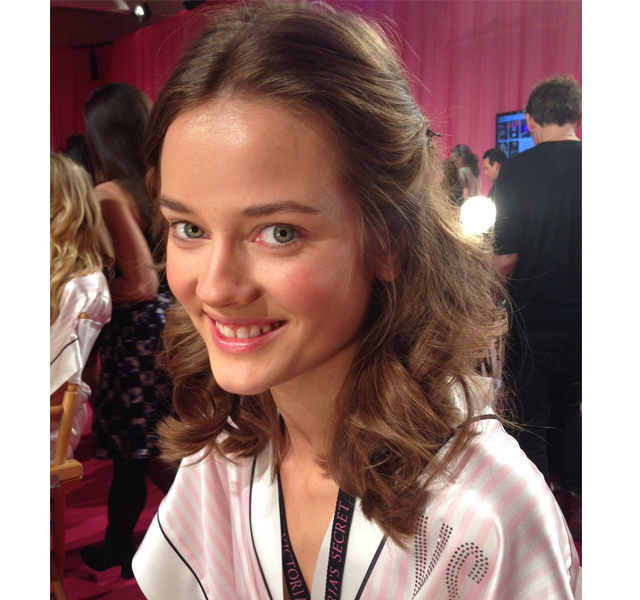 The Victoria's Secret Fashion Show creates a lot of buzz year after year – due not only to the fact that one of the lucky girls gets to wear a multi-million dollar bra down the runway, but also the months of planning that goes on behind-the-scenes to make sure that the 40 models look glam. It's not an easy task. Not only will there be rockstar performers (um, Taylor Swift!) but supermodels like Alessandra Ambrosio, Karlie Kloss and Cara Delevingne will be rocking the runway – and we mean rocking. The show is known for it's playful themes and the girls' playful attitudes with their costumes, and this year will be no different.
There will also be new faces rocking the runway this year, one of whom we caught up with backstage before the show taping– the actual show will air on CBS on December 10th at 10PM. Jac Jagaciak is by no means a new face to the modeling world, as she has walked up and down more catwalks during fashion week than we can count and has been featured in countless fashion and beauty campaigns, but this will be her first year on the runway for Victoria's Secret modeling for PINK. Below, Jac talked with us about her fitness go-to's in preparation for the show, her beauty staples and that one thing she's dying to eat after all of this wraps up.
First of all, I'm sure the prep for the show wasn't easy. What did you do to get ready?
Well, I just started working with them (it's my first year), so I wasn't thinking about the show before but just thought about the way I've been working with them since I was pretty much undressed all of the time. But, I for sure stepped up my game with workouts. I've been doing much more yoga and going to the gym whenever I have some time. So I think from working out everyday…I used to work out maybe twice or three times a week and now I'm doing something almost every singly day. But it's good, it's more me being comfortable with my body, than just doing it for them. But yeah, for sure I stepped up my game.
Do you have any fitness go-to's to get in shape, especially when it comes to show crunch-time? 
Well you just have to think about the parts that you care about, like the flat stomach. So just do the exercises that you feel are going to help you. I guess it's more of an individual thing. For me, I've been doing a lot of track and field when I was young, so I just kind of know what my body likes and how it is going to change with whatever I do. So I do the exercises that already work for me for my stomach, for my butt, for the important curvy parts.
MORE: Victoria's Secret Fashion Show: What You Don't Know
Did you change it at all once you saw your outfit?
No, I think once I saw the outfit, I couldn't really do much about it because it was only 3 days before the show. When they choose your outfit, they look at your body. Of course for them, it's important that you look good in it and that you feel confident. I feel really good in my outfit.
And what can you tell us about your look? 
I'm in the PINK section, so it's a fun, colorful outfit. It's all about the networks, so it's all the hashtag, social media craziness. My outfit is basically a cute, huge 'OMG' and I have a beret and high boots.
As for beauty products, do you have any products that you love and wear each day?
I'm really trying not to use makeup every day, but if I do, I use a little stuff from Chanel, I use the VitaLumiere concealer and a base. I actually switch my cosmetics a lot so I don't really have something that I use every single day. But of course like keeping moisturized and a lot of water, I'm sure you hear it all the time, water actually works. Drink a lot of water. I sometimes, if I don't forget, I take vitamins, that has all the stuff to help your skin and your nails healthy, I feel like that's important.
MORE: Cara Delevingne's Fast Food Prep & Latex Outfit Scoop
Is there any really good advice that some of the other models have given you for walking for your first time in the show this year?
Not yet, I actually haven't heard any, I would love to hear some. I guess just to have fun and just to feel confident because that is the most important thing because it's going to show if you don't feel good with yourself. So just have fun, go with the music, interact with the people on the stage.
Is there anything you are looking forward to eating once tonight's over?
Yes, actually, yes. I would love to have either steak or a burger. I actually have to wait another week or something since I'm going for the swim trip after with them [for a shoot]. So it's going to take a little longer!
Image via Instagram