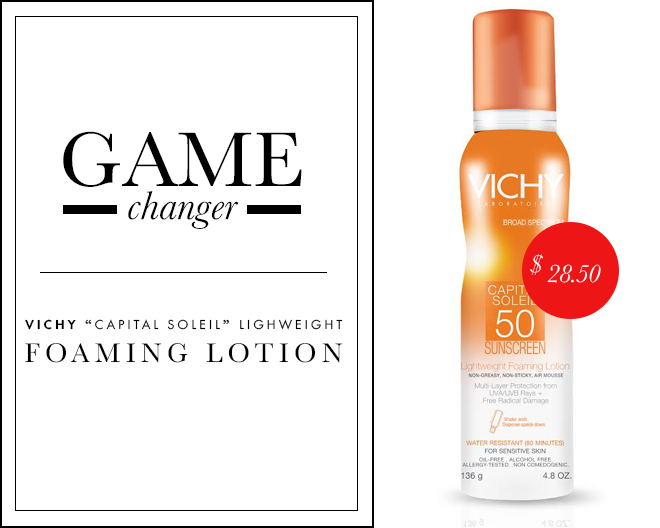 In our series, Game Changer, we're highlighting products that are so good, they are having a significant effect on our beauty routines.
We know the rules: Apply SPF 20 minutes before sun exposure and reapply every two hours. Yet as simple as it seems, we need a time-saving alternative to cream sunscreen, but with the slightest of winds, dummy-proof sprays create blotchy tans burns. Vichy's Capital Soleil SPF 50 Lightweight Foaming Lotion ($28.50, vichyusa.com) now has a mousse formula that provides the results of a cream with the ease of a spray.
Similar to a self-tanner mousse, the foaming lotion blends seamlessly, melting into the skin without leaving the dreaded greasy residue of sunscreens past. So smooth, it covers even the roughest of skin evenly (the elbows and knees have always been the most common to burn), and the lotion hydrates like any top-notch body cream. Because the sun zaps moisture from the skin, it is less likely to burn when hydrated—killing two birds with one stone.
This mousse is so soft and soothing, we admit we look forward to our two-hour touchup.
Read more: How to Boost Beauty While You Sleep