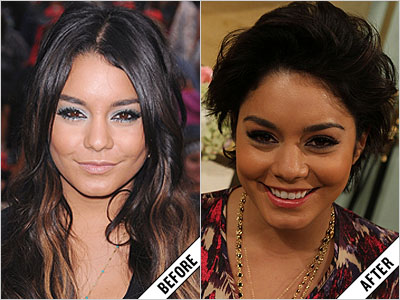 Photo: © Credit: Access Hollywood
Vanessa Hudgens is sporting a new, short and shaggy 'do, courtesy of her upcoming movie, Gimme Shelter in which she plays a homeless teen. "I kind of look like a boy throughout the whole movie," she said yesterday during an appearance on Access Hollywood Live.
Vanessa revealed last night at Neutrogena's 2nd Annual Wave for Change event that she actually made this drastic haircut herself, contrary to original beliefs that the look came courtesy of a wig. While we can appreciate her commitment to her work, this star took mere dedication to a whole new level with this self-sacrificing style.
Vanessa told Access Hollywood, "Honestly, I kind of feel like a soccer mom. There's nothing wrong with soccer moms, but I'm only 22." Unfortunately, we couldn't agree more with Vanessa's own review.
Sometimes, cropped cuts can be undeniably sexy, take for example Emma Watson or Natalie Portman. Unfortunately for Vanessa, this is not one of those times. The former High School Musical star looks like she's about to head to her twenty-year reunion with this cut–it's unflattering and ages her well beyond her 22 years.
Do you like Vanessa Hudgens better with long hair or short?


Try on Vanessa Hudgens's hairstyles in the Makeover Studio!