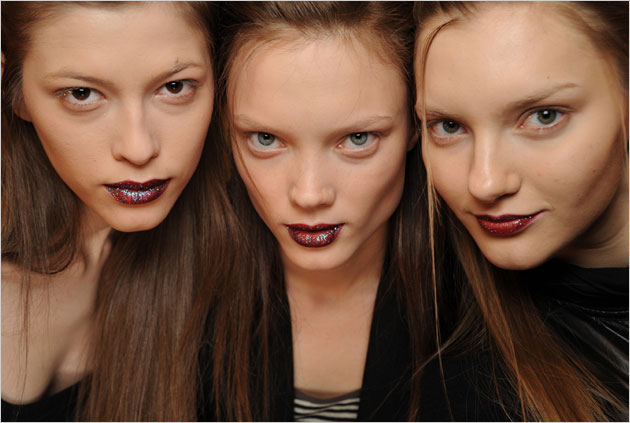 Three vamps backstage at the Doo Ri Fall 2010 fashion show. Photo: © Luca Cannionieri
Blood red lips at Georges Chakra. Photo: Stefan Gosatti/Getty Images
The idea of a paper white pale, skeletal, and unemotional models lurking around with dark makeup on is nothing new to Fashion Week. But thanks to the apparently undying obsession with all things vampire, this lifeless beauty trend now seems to have more romanticism, and maybe even more appeal. At the Georges Chakra Fall 2010 fashion show (at right), MAC makeup artist Gregory Arlt kept models faces very pale and focused on a dark lip using MAC Diva lipstick. "The lipstick is the color of dried blood. I call it glampire beauty," he says. "The look reminds me of a 400 year old glamorous vampire that makes you ask–is she dead or alive? It's more along the lines of an Anne Rice novel rather than today's Twilight vampire." Models at the Doo Ri Fall 2010 fashion show (shown above) had blood red lips topped with glitter, bringing the glampire theme to new heights.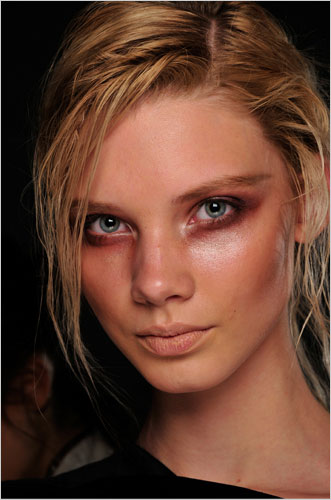 Sunken eyes at Cushnie et Ochs. Photo: © Luca Cannionieri
While the vampy red lip could be a real "do" for next fall, there's another version of vampire makeup that's a "don't" for most of us. The beauty look for Cushnie et Ochs (shown left) was equally undead, but focused on a sunken eye effect and the entire face didn't have a hint of blood circulation–a look definitely better left for the catwalk than the sidewalk.