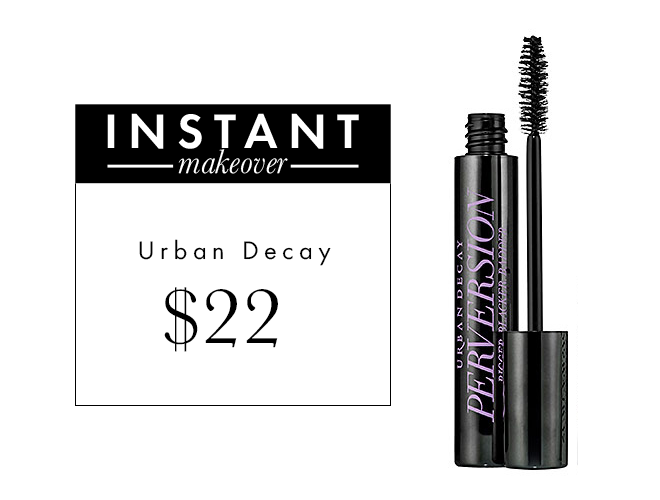 Occasionally we come across a product that bestows an immediate glow, changing our look (for the better!) in an instant. Since we'd be remiss to keep them to ourselves, we highlight these genius finds in our Instant Makeover series.
There are plenty of seemingly superfluous, if not outright ludicrous, beauty products that I regard as "things I must have." I don't mean to say makeup must-haves, but rather life must-haves, as if I'd rather have that $70 concealer stick and jasmine-scented deep conditioner than a roof over my head and access to clean water. This is not entirely untrue. After all, what is quality of life if you have visible under-eye circles and hair that feels like straw?
Of all the items I've ever deemed necessary to sustain my existence, a mascara has never made its way onto my list. Sure, I must have a mascara, but which mascara it may be matters significantly less to not at all. I've used a great number of black mascaras in my day, and while a few of them have been remarkably bad, I've never found one that's remarkably good. As it stands, I've never purchased the same mascara twice.
I wasn't expecting much when I took Urban Decay Perversion Mascara ($22, sephora.com) on a test drive—some people love cars, I love eye makeup—which has nothing to do with the mascara's reputation and everything to do with my mascara skepticism. In fact, the brand-new launch has received an almost unprecedented amount of positive feedback from beauty editors and Sephora shoppers alike. The formula is the inkiest black, which registers as an instant point in my book, and I liked the sleek, minimalistic design and italicized font on the tube… not that that matters.
The sum of my superficial judgements still couldn't prepare me for the actual results. I have pretty long eyelashes to begin with—when they're curled, they graze my brow bone—but they're not particularly thick or dark or anything that a serious set of lashes should be. But curled and coated in a few (like, let's say 10 to 15?) layers of Perversion, it looked like I was wearing false eyelashes. You'd expect this type of thick, creamy formula to clump like crazy, but no matter how many times I ran the brush through my lashes, there was not a spidery lash to be seen.
The effect is everything you want your eyelashes to be—longer, thicker, darker, well-separated, and slightly flared outward in that "my, what big eyes you have" way. I don't know why, exactly, this mascara is so good, but it really, truly is, and I hope you don't blame me for not wanting to ask any questions.