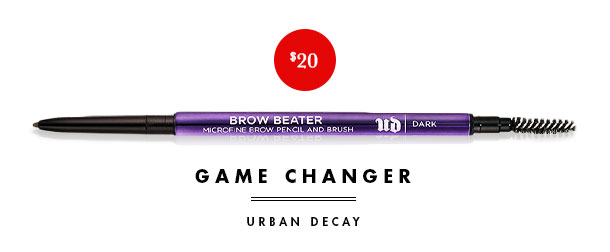 I admit it: I'm fussy when it comes to filling in my eyebrows. I want them to look done but not TOO sculpted, and I don't want the color to wear off throughout the day. I want to look like I woke up with naturally full, dark eyebrows—and while I've found some tinted gels that I like, I've never found an eyebrow product that I truly loved.
Until now. Readers, I have finally found my dream product. Urban Decay's Brow Beater Microfine Pencil and Brush ($20, Sephora) is the answer to beauty prayers that I didn't even know I had. It is, hands down, the best brow pencil in the history of the world; if you have eyebrows, you need to get one of these. That's how fantastic it is.
The pencil itself is, as it says on the packaging, microfine—about the width of a mechanical pencil lead, which is the thinnest I have ever seen. This means that the short, feathery strokes that you draw your brows in with will look super natural. The pencil is also quite hard, which means you have to apply some pressure to get it to leave a mark. From an application standpoint, this is perfect—it means you won't accidentally overdo it and give yourself Evil Queen brows.
The formula is also truly fantastic: waterproof, smudge-proof and long-lasting. I've tested all the shades, and none of them oxidize and change color throughout the day—so your brows in the evening will look just as amazing as they did in the morning.
Speaking of colors, the shade range is really versatile. Taupe is amazing for blondes and redheads, Warm Brown is great for brunettes (or those with red or gold tones in their hair), and Neutral Brown is amazing for those rocking cooler tones. Dark—the shade that I use—is that rarest of things: a truly grey-black shade that doesn't make my brows look totally overdone.
If this was all the pencil was, I'd be happy—but then it goes ahead and gets even better with a slim spoolie brush at the end for blending. The smallness of this brush means that it's easy to maneuver (even in tricky spots, like at the inner corners); the softness of the bristles mean that you're not scratching your skin as you brush and blend.
I also really love the design of this eyebrow pencil—it's about half the width of a traditional liner, which makes it very easy to hold and control. You also don't have to deal with a messy sharpener, because the pencil twists up when you need more (always a plus where I'm concerned). The pencil is also the signature shade of UD metallic purple, which makes it really easy to find in my makeup bag. These are the small details that make my brow life much easier, and I really appreciate them.
I finally have the naturally defined, soft-looking brows of my dreams—and it's all thanks to this pencil. There are no superlatives good enough for Brow Beater; try it for yourself, and your eyebrows will thank me later.
More from Daily Makeover: This Exfoliating Mitt Will Change Your Life