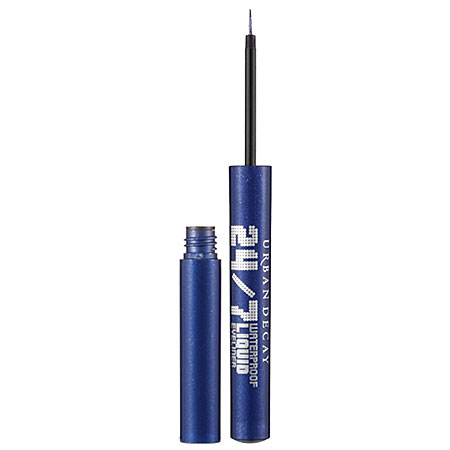 At Beauty High we constantly have new products crossing our desks and are always on the hunt for the next best thing. "The One Thing" is our way of sharing with you that must-have product that you need to introduce to your lives right now, even if it means skipping Starbucks for a couple of days.
While the cat eye look is gorgeous for right now, black eyeliner can get boring if you wear it everyday. If you like to stick with what you know, colored eyeliner may seem a bit too risky, especially if it's bright. Eyeshadows can make great eyeliners when you dip an angled brush in water, but it doesn't have as much staying power as a waterproof eyeliner. To get the bright blue eyeliner that was all over the Spring 2013 runways, you need a precision liner with staying power like Urban Decay 24/7 Waterproof Liquid Eyeliner in Radium.
What Makes It Different:
The slender brush makes it easy to draw on precise lines. You won't end up with crazy thick lines (unless you want them) and you can do a quick flip with the brush to create a cat eye.

It has staying power. Put it on in the morning and it'll still be there at night with no smudges.
It's highly pigmented so you won't need to go over it again and again. Just one swipe and you'll have an electric blue line.
Why It's The One Thing:
Besides a go-to black eyeliner, every girl needs a fun liquid liner in their makeup bag to change things up. It's small so it can fit in any on-the-go bag or clutch, just in case you want to change up your look – since you probably won't need touchups. Use it alone or apply black liner then the blue above it for a night out. The waterproof eyeliner comes in different colors, also highly pigmented, if blue isn't your color.
Urban Decay 24/7 Waterproof Liquid Eyeliner, $19, sephora.com