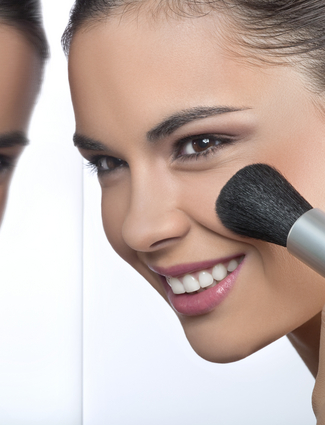 Spring is here! Not only can we start wearing less layers, but we can play with some new makeup colors. The spring trend in beauty is all about pretty blooming floral hues that are universally flattering.
Pink and rose on lips and cheeks are all the rage and will brighten up any face. Sally Hansen Natural Beauty Inspired By Carmindy Sheerest Cream Blush in Beaming ($8.95, Drugstore.com) is a perfect warm pink that works on all skin tones and is like a light watercolor approach to a perfect flushed cheek. Blend it on with your fingertips or try the Mac 187 Duo Fibre Brush ($42, Maccosmetics.com) to blend it to perfection.
On lips a fantastic universal color is the Nars Velvet Gloss Stick in New Lover ($24, Narscosmetics.com). This great spring shade is the perfect mix of rosy golden pink that works on light, medium and dark skin tones and stays on your lips all day long without ever drying them out.
Eyes are bright and beautiful with shades of violet and purple this season, and the hue works with any color of iris. Go bold with any of the great shades found in the Yves Saint Laurent Ombres 5 Lumieres Eyeshadow Palette in Lilac Sky ($58, Sephora.com) as you are sure to find the perfect purple shade for you. Pair the purple shadow with black mascara on top and bottom lashes and light pink cheeks and gloss so the focus is all about the eyes.
As an established makeup artist, many beauty brands send me samples of their latest products for consideration. I only write about the items that I truly love and I always abide by Daily Makeover's Editorial Ethics Pledge in each of my Positively Beautiful posts.