Faking an undercut is easier than you think—if you've got the three-strand braid down, that is. You've seen countless celebrities, most recognizably Kristen Stewart, wearing this type of look that utilizes tiny cornrows braided back to create a faux look, which really is ideal for anyone who wants to try out a dramatic side 'do with little commitment. When you get a half-shaved style, you're kind of stuck with it for a few months at the very least.
To update the 'fake it 'til you make it' version of this trendy style even more, we consulted with Master Stylist Judy McGuinness who taught us how to combine twists and braids for a really cool side look. It may be super intricate in appearance, but you won't believe how easy it is to actually DIY. Watch over the stop-motion GIF below and read the directions to get started.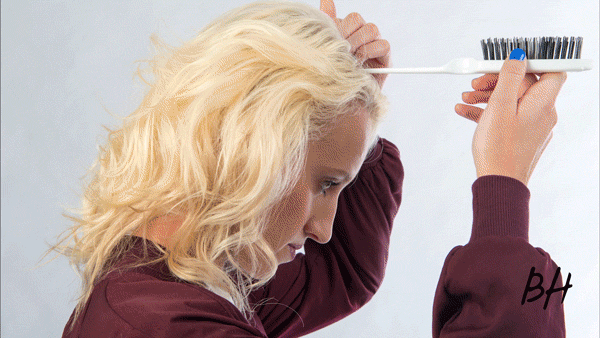 MORE: How to Grow Out an Undercut
1. Prep for the style by curling small sections of hair.
2. Work a texture paste through the side of your hair where you want the braid to be.
3. Create a deep-side part.
4. Take a small section of hair from the back of your head, towards the end of the hair part. Braid that tiny section and secure it with an elastic. Then, pull it to the front.
5. Once your braid is pulled to the front (you'll still be holding it), take a tiny section of hair towards the beginning of the hair part near your ear and add it to the braid, twisting them together and pulling them back where the braid began. Pin this into place and pull a piece of hair over top of it to hide the pin.
6. Pick up another section of hair near your ear and braid it, securing it with an elastic. Take another strand of hair next two it, twisting it in along with the braid. Pin this back as well. Our expert says this will create the "S" shape!